Educational
Portfolio advice from Type Designers
Inspiring insights from industry leaders and creative heavy-hitters.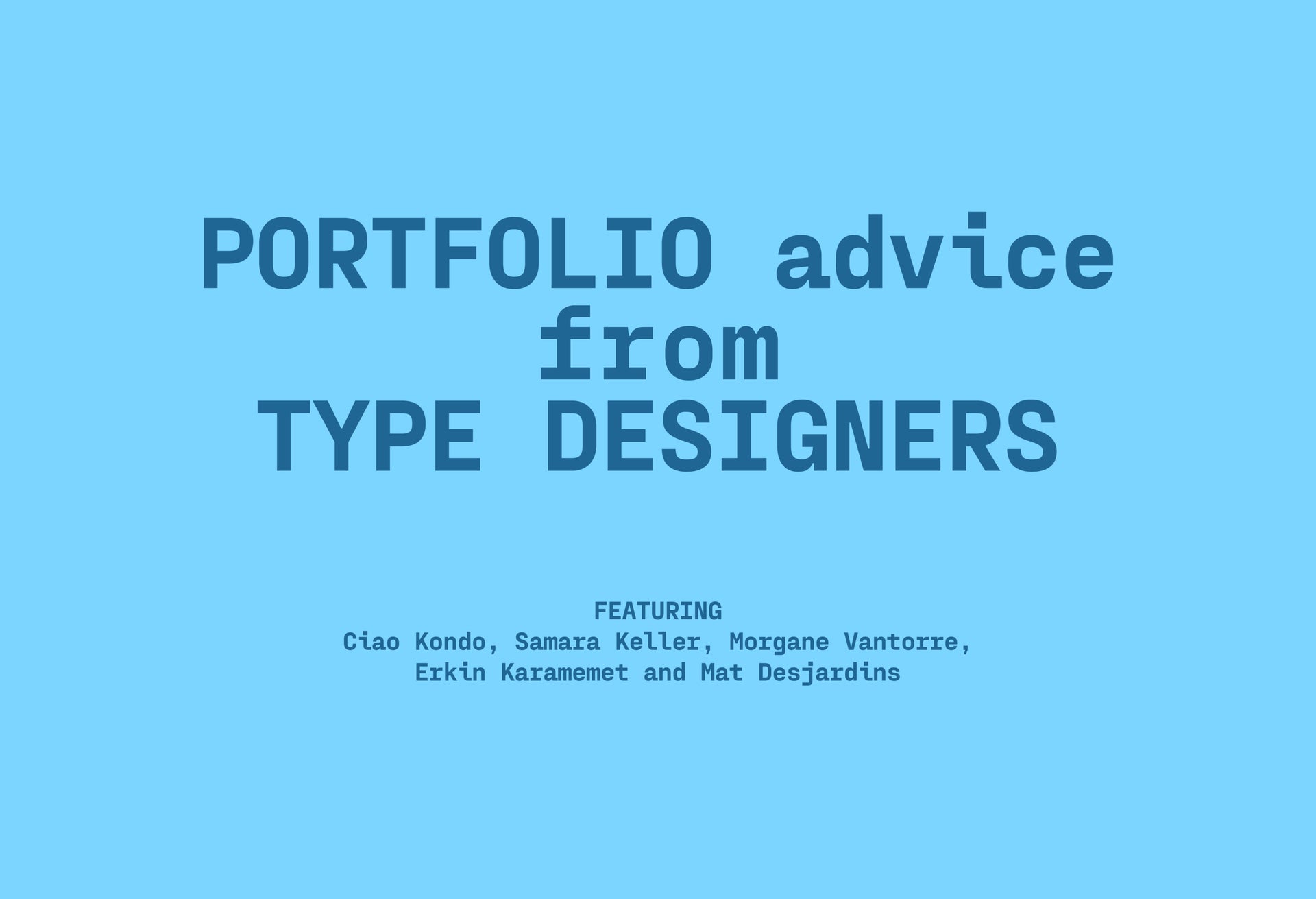 'Where do I even start?!' 😩

'What do I include, and what goes where??' 🫠
No matter your age or experience, getting your portfolio together can be an incredibly daunting task – one you may often continue to put off (and off and off). Your portfolio, however, is an essential tool for designers from all walks of life, whether you're a seasoned professional or a fresh-faced student. Not only is it a personal-meets-professional space to showcase your talent and creative wonderfulness, but it acts as an instrumental tool in communicating your value and expertise to potential employers, clients, and collaborators.

As we've mentioned in our first Advice articles, here at Pangram Pangram, we hope to foster a digital space which is intriguing and educational across the board and not just limited to the type we produce. That's why this week, we've returned to some of the best in the business to ask for their top portfolio advice tips. Say hello to Mat Desjardins, Caio Kondo, Samara Keller, Morgane Vantorre andErkin Karamamet! Over to you, folks!


Samara Keller

Portfolios are hard to master. Condensing your entire design experience to a couple of pages seems like an oversimplification of one's design practice. There's a fine line between your personal style and the design studio. Apply and choose studios with intention. Do you want to venture out of your comfort zone or deepen your knowledge in a specific area? Select projects that show the essence of your design practice. The Portfolio should show who you are and what you focus on.

Intention, selection and presentation are probably the keywords for each portfolio. Choosing the right way to present your projects makes or breaks the other two keywords. Take good pictures of any print media and show the actual usage of your design. Your projects should not feel limited by the intricate design of your portfolio. Give your projects space and room to create an impression.


Morgane Vantorre

Besides tips on layout, grid refinement, and everything else related to orthotypography, in short form, my best advice is to embody your portfolio. By that I mean just making a kind of catalog of one's work is not effective. It's important to contextualise, to talk a bit about the process of the project, to show sketches, even failures before showing the result.

This is because I'm convinced that the process, your way of thinking about shapes, of answering a problem, is just as important as the final result. This requires good documentation of the steps of your projects, as well as attention paid to their descriptions. It is not necessary to write a novel every time, as it could unbalance the text-image ratio of your portfolio, but I think it is important not to neglect the 'heart' of your projects!


Erkin Karamemet

The art of presenting is a skill in and of itself! Whether analogue, digital, or in a box of chocolates, everything has a justification and depends on the situation. In terms of content, you should consider how your medium is perceived. A portfolio isn't like a book, that's read in peace.

My experience has shown me that people skim a portfolio to get a sense of an aesthetic feeling. So it should be uncomplicated and easily accessible. And it should also suprsie. But for me, the motto is always less is more! By this, I don't mean to not adorn your work with unnecessary elements that distract. I mean that you should let your work speak for itself and always pay attention to where the focus should be.


Mat Desjardins

I think the main advice I could give to a creative person trying to do (or update) his portfolio would be to SHOW ALL your creativity!

As creatives, we're usually more than just graphic designers. You make music? Put that in somehow. You did a tee for your friend? Photoshoot it and put it in there. You make videos? You write poems? Put that too. Just one piece of advice, make sure it's up to your standards, just don't put everything in there just for the sake of putting everything. Curate your everything.

Many times in my career I had to hire / look for creative people and I always gravitated towards the ones that weren't unidimensional. Put your whole creative self out there and not just the part you want to get hired for.
Caio Kondo

This is the classic: do as I say, not as I do. The important thing is to always keep it up to date, but I confess that I am not the best example.

As you gain more experience in type design, design and kerning improve a lot – so share your evolution with the world and, on this journey, select the works that most reflect your vibe.


Read
More ↓↓↓(Reading is good
for you)
Read
More ↓↓↓(Reading is good
for you)