Educational
Design Insights: Collaborating with others!
Welcome to Design Insights! Here seven remarkable practitioners and studios discuss the creative and the practical side of working in the design scene, featuring Kessels Kramer, Studio Lowrie, Lauren Harewood, Sthuthi Ramesh, Jennifer Whitworth, Barkas and Vanderbrand. Check back each week for more wonderful words of wisdom!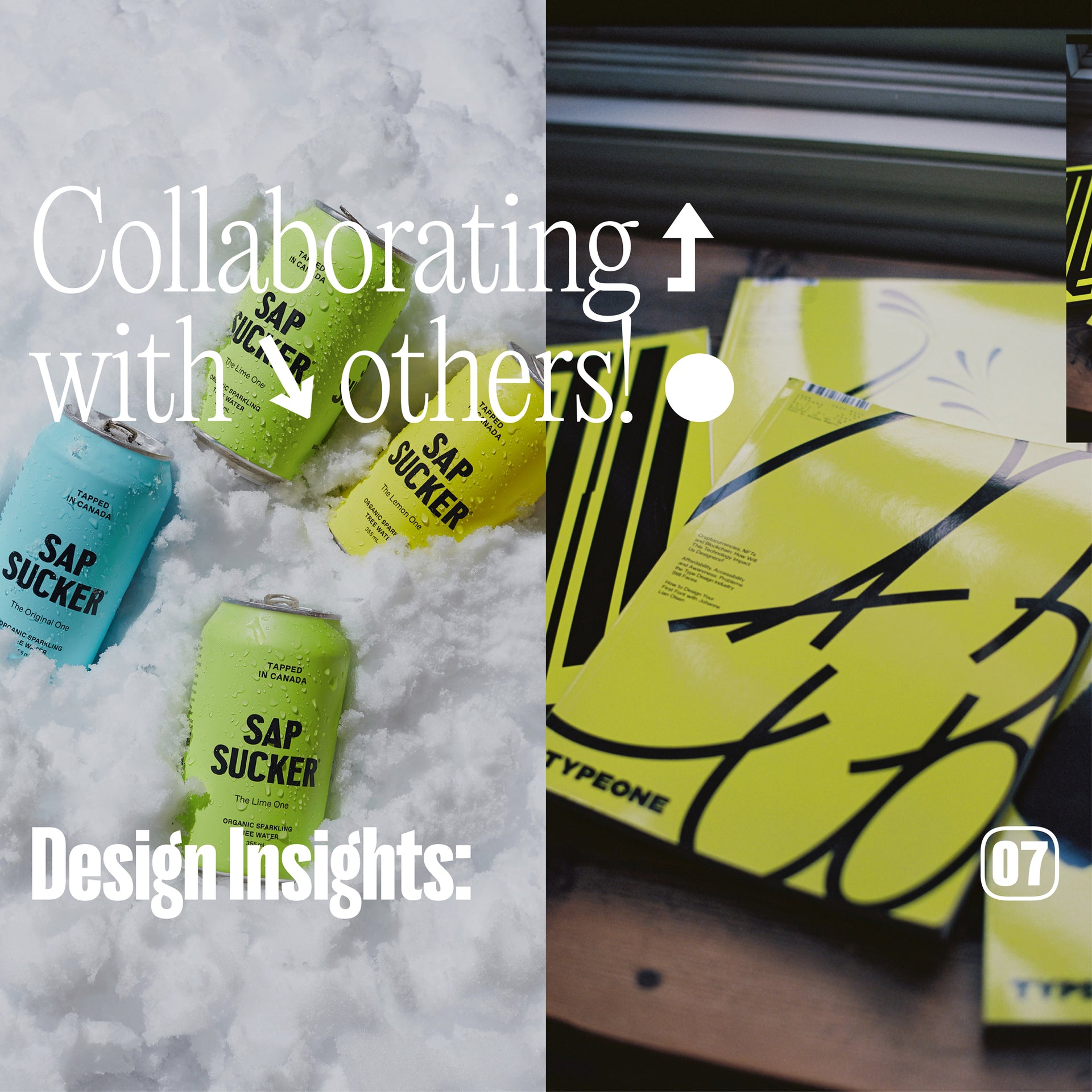 Welcome back to Design Insights!
As they say, we're better when we're together, and creativity is no different! Collaboration is fundamental to successful design practices, whether working with printers, coders, managers, copywriters, photographers or other designers (and everyone in between!). Working with others, however, often means altering your own processes to fit someone else's. With this in mind and on-brand with this article's theme, we've spoken to our resident creatives about how their creative approaches change when working with others.

Over to you, team!
HOW DOES YOUR CREATIVE APPROACH CHANGE WHEN YOU ARE COLLABORATING WITH OTHERS?
I would say that every single time I collaborate with others I end up making something that without a doubt I wouldn't have conjured up by myself. When I worked with Studio Ground Floor earlier this year on the latest TYPEONE issue (Shout out Alice & Harry) – I know for a fact I wouldn't have arrived at our visual approach if I was working independently. I think together we continued throughout that process to push the magazine to a place that was really expressive, as is synonymous with TYPEONE, while holding its own in a conceptual and systematic grounding.

As someone who tends to get very stuck in my own head, habits, and routines, if nothing else collaboration literally just shakes me out of that through exposure to alternative approaches and possibilities. I think it's a really important thing to not create in a silo, even when you work well independently. It keeps you mobile and involved in the real world. I always take away something from collaborative projects that I can keep safe in my little pocket and think of as I move through future projects. I think as social beings, there's something very underrated about simply being in good people's presence and soaking up their vibrations. I would hope that whoever I collaborate with comes away having taken something from working with me too.
I usually like to brainstorm together with my collaborator. Exchange ideas and sketches at an early stage so we can feed off each other's ideas and develop.
I'm pretty chill when it comes to ways of working. Just like in life, I'd probably let the other creative make the first move when it comes to our creative approach. Maybe that's a reflection of being a woman that's worked in mostly male-dominated work environments? (lol) but I like to get the best out of people and if that means letting them do it their way then that's cool with me. Also, I'm hella curious about how other creatives work, I'm always here to pick up tips and tricks. If you have a better way of doing things, I beg you you let me know.
It's a tough question to answer simply because the way this changes is influenced by who you're working with. Sometimes it's seamless and very little changes. Other times it's ends up being as much about working out how to work together as it is about doing the output. In an ideal situation there's mutual respect and trust, then it's just a case of playing to everyone's strengths and playing with capybaras, puppies and rainbows.

KK is pretty collaborative place. As an agency we've always worked with interesting 3rd party creatives, photographers, musicians, shoemakers etc. and when we had the gallery, KK Outlet, it was exclusively that. It feels like we attract people who want to share the creative process with others, and so collaborate much more naturally than some other agencies.
Creative Directors Julie Vander Herberg and Anna Vander Herberg of Vanderbrand
All of our projects are collaborative from the get-go. At the office, we strive to work as a team because our best ideas happen where there are multiple people working on them. The work is stronger when you align the ideas of an entire team and come together to create something bigger. Not to mention, most of our projects include working with other creative teams, which means we're always collaborating with others and working towards the same goal. Collaboration plays an integral part in our creative process and ultimately decides the success of a project.
It changes completely, so difficult to pin down specific moments. The main thing we want to do is amplify the skills and talents of the people we work with. We want their creative DNA to feel present in our output.
We always collaborate, so I would say that we don't have two different ways of working. Clients are different, so of course we can dial up how collaborative the process is depending on how much the client wants to be actively part of the development. When we work with other agencies or production companies, our approach is also very collaborative. When working with these, we like to bring them in at an early stage. We work with them, because they are good at what they do or have a skill set we do not have, so their perspective is important to create the best possible outcomes. When you collaborate, it is all about evolving and building on each other's ideas, no matter whether the people you are working with are your colleagues, the client or other collaborators.
Read
More ↓↓↓(Reading is good
for you)
Read
More ↓↓↓(Reading is good
for you)