Educational
Design Insights: Changing Tastes and Evolving Your Creative Practice
Welcome to Design Insights! Here seven remarkable practitioners and studios discuss the creative and the practical side of working in the design scene.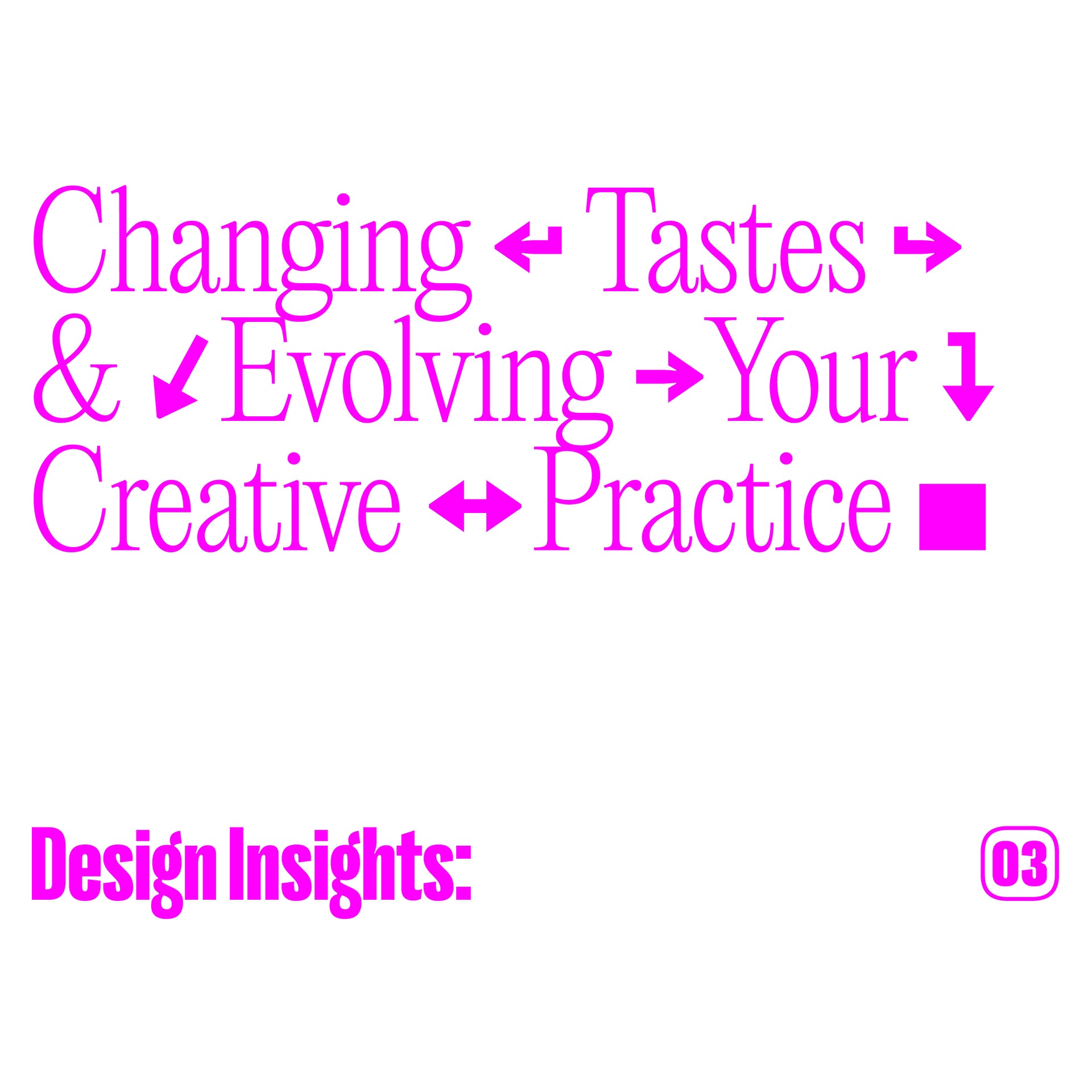 Welcome back to Design Insights!
This week, we've spoken to our resident creatives on a more personal level, discussing their changing tastes and how they (and their processes) have evolved since they set foot in the industry. Whether it's a redirection in discipline, ideological re-evaluations or personal judgements, a lot can happen in a relatively short space of time – gone are the days of staying at the same job, the same desk, and working on the same stuff for decades (thankfully!). Instead, it's such an exciting time to be a creative, with so many avenues, fields of study, people, practitioners and projects to explore. So let's embrace the change and see what our trusty creatives have to say about their stories.

Over to you, team!
HOW HAS YOUR TASTE FOR PROJECTS CHANGED SINCE FIRST GETTING INTO THE INDUSTRY AND HOW HAS THIS INFLUENCED HOW YOU APPROACH YOUR WORK?
My time in the industry has fortunately been really varied. I've done a mix of more editorial work, a lot of visual identities, and a fair bit of art direction, packaging and websites. When working full-time for design studios, you start to get quite good at one thing, though, and for me, it was identities. During this time, I definitely honed my conceptual and typographic skills, along with my knowledge of print, in a way that I personally would have struggled to independently.
However, since I took the freelance plunge last year, it's been so interesting to see how the type of work I do now has opened back up again. I'll forever be thankful for the skills I learnt doing identities full time, and they're still probably what I do most of, but at this point in my life, I'm enjoying the assortment freelance is bringing and that this variety allows me space to explore my personal approach and style in greater depth.
I have moved a lot towards digital and spatial projects. When I was working for studios I worked on a lot of print projects. But lately I've been doing a lot of exhibition design and digital design.
I've changed a lot since starting out, not just as a designer but as a person. My priorities shifted and I've found that working within spaces that reflect my beliefs and ideologies has taken precedent and this has had a domino effect on my process. From the clients I want to work with, to the disciplines I want to work on. I've had to do a lot of self-reflection, unlearning and adapting.
Honestly, the work constantly changes, intentionally or otherwise. When new clients come on board, the focus often shifts and that tends to change the agency's approach, and ultimately output. Any project, whatever the medium can be great. It's best to focus on the project you're currently working on rather than one down the road.

Whatever the brief, there are two easy indicators that often lead to fun projects and good work. Firstly, finding clients who trust you is probably the biggest influence on whether you'll make work you're proud of or not. The second point is more of a barometer or way to judge your own idea. Ask yourself, is 'this' something you want to tell your mates about in the pub? If yes, it's probably something that's worth doing. If it's not, maybe try something else.
Creative Directors Julie Vander Herberg and Anna Vander Herberg of Vanderbrand
We have always been inherently passionate about print materials and environmental signage solutions since the early 2000's, when the foundation of Vanderbrand was established by designing for museum exhibitions. Presently, we live in a primarily digital age where on-screen experiences are more prevalent. We communicate brands in a variety of ways through motion graphics, film, web design, and digital media.
Since the start, we've had a nice range of projects in the studio. We definitely do more animation work now. There's an exciting unknown to collaborating with animators as it always takes our initial creative work to unexpected places. We often bring animators or 3d artists into projects at the very start as we see animation as a core component of a brand versus its antiquated view as an execution of it.
There's such a satisfaction to print, though. Having something physical in your hand at the end of a project hits different. Even if a project is completely digital, we often try to find a way to bring a physical conclusion. The printed type specimen we created for BASA is a good example. We worked remotely with Mexican animation studio BASA and developed an identity based on a bespoke display font. The type specimen explains the creative thinking behind the letterforms and acts as an informal style guide for the BASA team.
The way we look at branding is to combine the best from the field of design with the best from communication and advertising. For us this makes the work more interesting and brings character. A very strong tone of voice can mean a lot for how a brand should look design-wise, because together they set the tonality for the identity. That has always been our approach. In terms of projects, we are for sure doing much more digital work now, than we did in the beginning. We have a dedicated digital team, and can see how that also spills over in how we work with everything else, because some of the systematic thinking that is needed for digital also improves our brand work.
Read
More ↓↓↓(Reading is good
for you)
Read
More ↓↓↓(Reading is good
for you)