Spotlight
PP Writer: Pangram's latest release is inspired by the past, but avoids tradition
We're excited to delve into PP Writer, Pangram Pangram's remarkable new serif, designed by Fred Wiltshire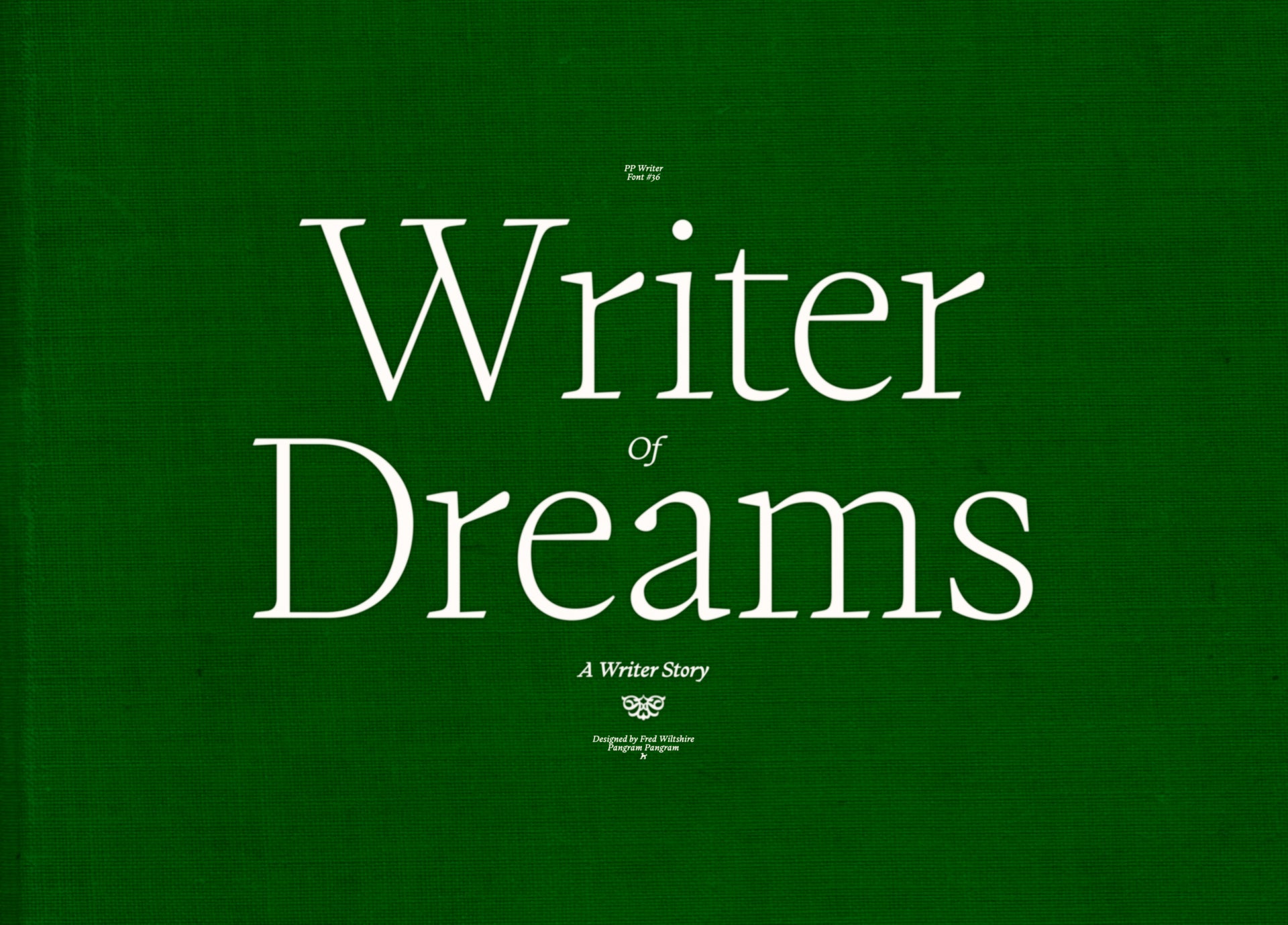 "With my fonts, you're guaranteed a functional, purposeful design with a handful of illustrations and useless glyphs," Fred Wiltshire tells us, whilst discussing his fascinating journey from editorial designer to type extraordinaire and author of Pangram's remarkable new French Renaissance-inspired serif; PP Writer.
With an unconventional geographical relationship to creativity and inspiration — having been raised in France before moving to the UK to attend the University of Reading, where he studied his Master's in Type Design — it's no surprise that the now London-based Type Designer Fred Wiltshire has perhaps more eclectic typographic curiosities than others. Drawn to the flourishing expression often associated with French Type and the humanist, geometric standardisation of traditional British Type in tandem, Fred channels this atypical balance throughout his work, including most notably, the latest PP release. "Writer's core purpose was always legibility and usability," Fred explains, "and in my opinion, the Aldine Model is the most successful for that purpose," he remarks, opting for the said 'Old-Style' typographic style to achieve as much.
"Prior to my studies," Fred recalls, contextualizing Writer within the progression of his typographic practice, "my designs were on the experimental, illegible, unusable side," finding the idea of taking the necessary time to work on a single typeface an exciting prospect. "When I was given the opportunity to work on one typeface for a whole year I was certain I wanted to go back to the basics," he explains, "and create a typeface that could be legible, unassuming but still contained a bit of flair," adding, "I am hoping Writer does that."
We may be slightly biased, but we believe Fred has achieved his goal and some. Elegant, dynamic and vivid, PP Writer manages to strike a balance between practicality and play, conveying a flamboyant, characterful aesthetic whilst housing three styles, nine weights, alternatives, ornaments, Latin and Cyrillic scripts and over 676 glyphs with each font. Quite the typographic feat, if we do say so! The unique construction of PP Writer, optimised for both print and digital, is built with innate flexibility between technical power and editorial prowess, whereby the sharper strokes of its display variation dutifully complement the text style's accentuated exaggerated character.
Having found its influence within 16th French Renaissance typography, PP Writer carefully avoids the title of typeface revival. Explaining as much, Fred remarks, "I would know, I wrote my dissertation on that subject," using the Aldine model purely as a starting point for PP Writer's proportions and axis. "The further the project progressed, the more detached it was from this model," finding its distinctive creative space within the combination of the 16th and 21st Centuries—a space where PP Writer truly captured an individual voice through its dance between classic and contemporary.
With such innate functionality under its belt, it's essential to step back and appreciate the delicacy and character of PP Writer's aesthetic, something that we did whilst chatting to Fred, asking him if he did, in fact, have a favourite PP Writer glyph or feature. "Although quite simple, I am particularly fond of the 'r'," Fred tells us. "The sharp right angle is a feature I am quite proud of," he continues, "it steps away from the typeface's motif yet still feels part of the same family," drawn to the challenge of consistency across weights and styles. "It really adds some character to the page," Fred concludes.
Created in collaboration with Connor Campbell and Mat Desjardins.


Read
More ↓↓↓(Reading is good
for you)
Read
More ↓↓↓(Reading is good
for you)