Spotlight
Say helloooooooo to OFF TYPE
Wonderfully off-beat fonts.
Available at off-type.com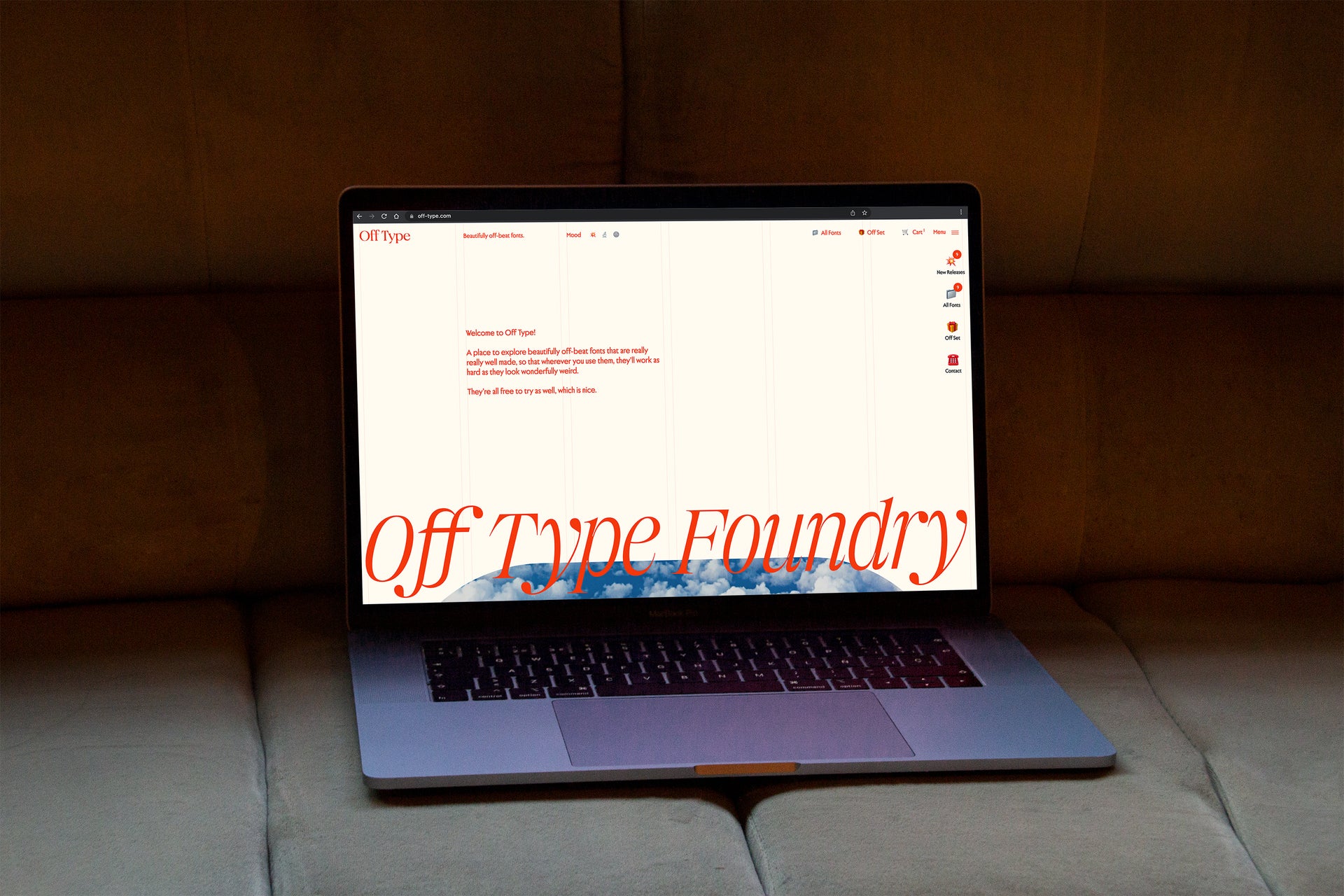 At Pangram Pangram, we've (obviously) always had a big big love for typography.
From crafting beautifully designed typefaces to pushing the boundaries of what's possible, we're always looking for ways to innovate and explore. So when we had the bright idea to try something a little more... otherworldly… we knew we had to see where this exploration took us. Introducing Off Type, the latest and greatest new type foundry from the minds behind Pangram Pangram.
Created in collaboration with prolific type designer
Valerio Monopoli
and our founder
Mat Desjardins
, Off Type is a type-based universe that offers a range of unconventional off-beat fonts, that are as well made and hard-working as they are weird and wonderful.
Launching with nine silly/inquisitive/playful/charming/exploratory/wonderful/ambitious/fun, expertly crafted typefaces,
Off Type
is a hodge-podge of inspiration, legacy, and letterforms. From royalty and rockets to the silver screen and b-sides, we sought to create a typographic collection that was playful, charming, and ambitious, destined to inspire creativity and exploration.
But we didn't do it alone.
Off Type
is a collaborative effort resulting from an international array of creatives coming together to bring their unique perspectives and skills to the table. Design
studio Bureau Borsche
led the charge with a speculative, creature-led launch campaign that perfectly captured the spirit of Off Type. Graphic designer
Sergio Lairisa
and London-based creative practice
Studio Ground Floor
also lent their skills to the project, crafting short stories to sit alongside Off Type's totem-shaped deities that embodied each font's character and essence.
Together, we've created more than just a foundry.
Off Type
is a typographic universe, a world of exploration and wonder that invites creatives to get lost in the letters and the stories they tell. What can we say? We're just super-duper incredibly proud of what we've created and we can't wait to see what/when/who/where it takes us next.
So what are you waiting for? You can download all these bad boys and use them however you want. We're not here to tell you how to use them. We're just here to give you the tools you need. Really well-made, silly tools. Head over to
off-type.com
to discover the wonders of this new typographic playground. And the best part? Every typeface is free to try today. Scram!
Read
More ↓↓↓(Reading is good
for you)
Read
More ↓↓↓(Reading is good
for you)