Educational
Backstage with PP Mori's Caio Kondo
In conversation with Caio Kondo, the designer of Pangram's already-much-loved sans serif PP Mori, we discuss the influence of the Portuguese language and Japanese Design on his work.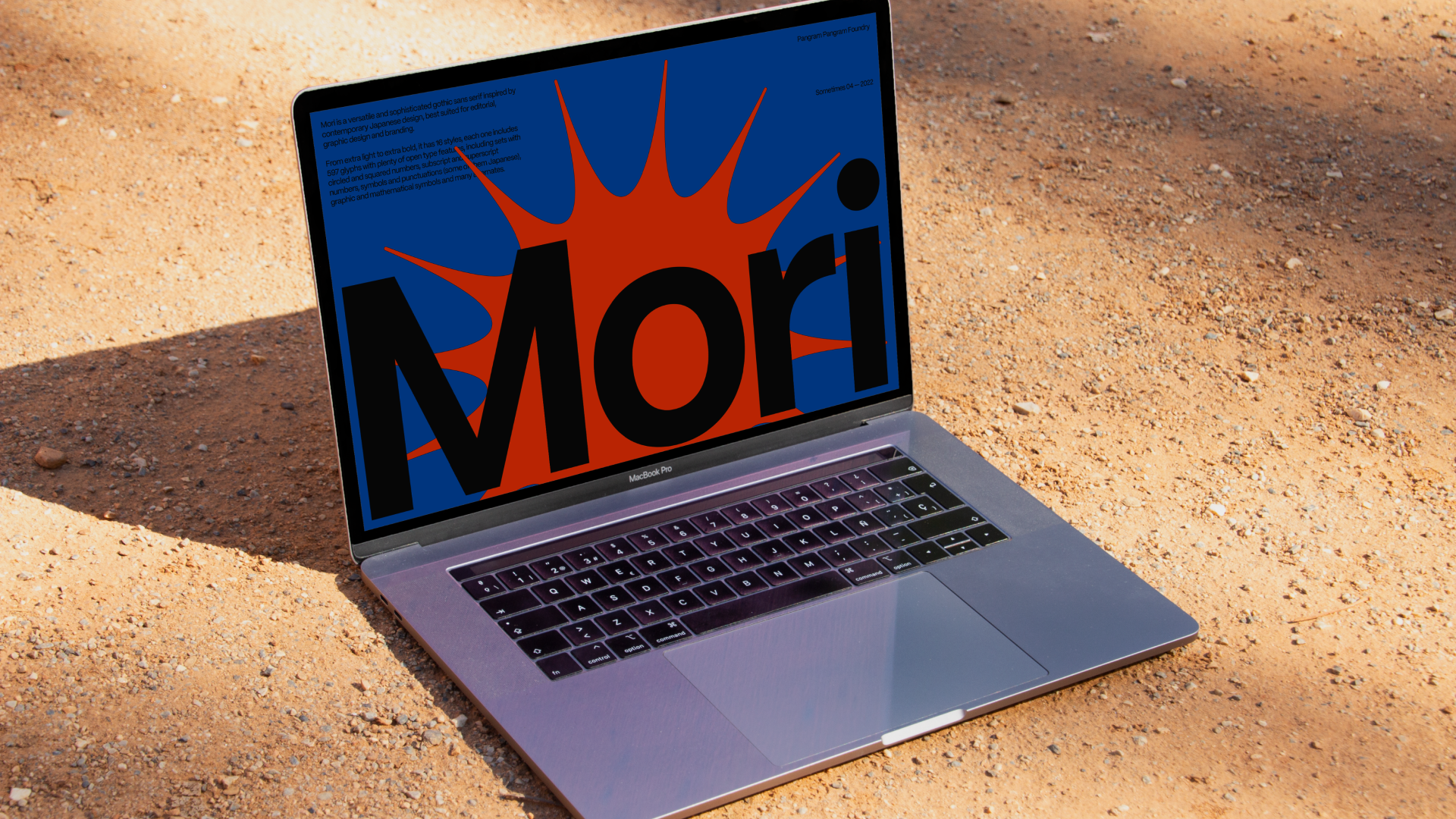 Welcome back to Backstage, the series where we speak to type designers and get to peek behind the curtain of their design processes, uncovering a whole lot more behind the glyphs than meets the eye. This time, we delve into the world of PP Mori.
Pangram's recent release PP Mori. is already proving popular for a reason. Versatile and unassuming, yet with an undeniable charm and sophistication, it sits back when you want it to, but isn't afraid to bring its character when the time is right. From the mind of Caio Kondo, a longtime collaborator of Pangram's, Mori offers 16 styles from Extralight to Extrabold with 597 glyphs in each style.



However, where it really comes into its own is within the exaggerated diacritics and punctuation marks, influenced by Caio's knowledge and frequent use of diacritics as a native Portuguese speaker. From the meticulous process behind the design, to its inspiration and the influence of Japanese design on his work, we speak to Caio about the ins and outs of developing Mori.
Hey Caio! How's it going?
Hey Alice and Harry, everything is going great! I'm working on really cool projects and at the same time delving into some hobbies. I've been trying to better balance my professional and personal life, which can be very challenging at times. I'm so happy to talk to you again, for me it will always be a pleasure and an honor!
We've spoken before about the process behind designing Eiko — what was the main difference between the process of designing Eiko and Mori? Do you have a similar process for each typeface you design or do they begin differently?
In general all my work has a very similar project structure. I usually divide the process into 3 main stages: concept, design and post-production. A workflow similar to the one shown by Cristobal Henestrosa, Laura Meseguer and José Scaglione in the book How to create typefaces from sketch to screen, an excellent reference in type design, very good for beginners and experts in this universe!

The main difference between these two fonts is the concept. Inspired by the work of Eiko Ishioka, a multifaceted artist, Eiko was conceived as a serif display, very useful in headlines and editorial projects, while Mori was inspired by Japanese design, created to adapt to different contexts, widely usable as an auxiliary font.
Mori's form was inspired by contemporary Japanese design — could you tell us more about your references, and the thought process behind the initial concept?
When I start a new typeface I always try to immerse myself in visual research as much as possible, typographic references are very important at this stage, but just as important, artistic references are present. In this sense, some names always come up: Ikko Tanaka and Kazumasa Nagai.

All these artists take me back to the imagery of Japanese design, and in this project they served as a bank of ideas for the creation of Mori's design.
Mori is a robust sans at heart, but it also features some super interesting characters, like the double story g, as well as very exaggerated punctuation. Do you look for these unique features first, or do these get built in as you develop the typeface?
In Mori's case, I already knew in the initial concept that I would like to value diacritics. As a speaker of Portuguese, diacritics are part of my day-to-day, so I feel that I am quite privileged to have these graphemes in my native language. For me, exploring this as a central element of the project highlighted the linguistic element.

But even with the daily presence of these graphic elements, it is still very difficult to find typographic explorations that go beyond the barrier of standard. Walking through the streets here in Brazil, it is possible to find some different vernacular lettering in hand-painted posters, and, sometimes, browsing I you might find nice fonts that transcend the traditional, like Maxeville by Soft Machine.

The double story 'g' and other features as alternative 'r', although I really like these, were not pre-established in the initial concept, they came as good surprises during the project.
What's your favourite glyph or feature in Mori?
I am a bit biased, but the K is my favorite letter ever. Maybe that's why it's not too hard to find the words "tokyo, osaka, eiko" in my type specimens, haha. Also I cannot fail to mention the circled numbers that I love so much!
How long did Mori take to develop?
I started creating the basic weights in early 2020, extrathin to bold, and in early 2022 I came back to add italics. Overall it took 6 months to develop so far, but I still intend to include the Japanese kana in the character map, so it will take a good few more months to complete Mori.
What was the most exciting part of the journey of developing Mori?
The development of a typeface is a very arduous and lonely task – over the months of work the only perspective is mine – so for me post-launch is the most exciting part of this journey. From the moment I share this with the world, it's always a mystery how and where it's going to be used.

In Mori's case, it was really cool to see it being used from educational projects to commercial packaging, being able to see other people's perspective is really exciting.
When you are designing typefaces, do you set out with an idea about what they might be used for, or do you develop it with no expectations? Do you ever set yourself a brief?
Yeah! Mori kicked off the creation of Inari Type, this was the first release by us. When we conceived the type studio, we thought of two fonts to start with, Inari typeface and Mori Gothic, one completely display and another neutral to compose the graphic identity of the type foundry. In these two cases, the brief was already well defined, we knew exactly what to expect from these typefaces.
On that note, since its release Mori has been used by SO many brilliant designers, across SO many brilliant projects. What are the stand out projects for you that feature Mori?
It's hard to point out a project that stands out, as they are all very good. But I really love the use made by Polar.ltda for Çã, a beverage company, here in Brazil. I love the fact that the diacritics are present throughout the packaging and, especially, in the logotype. I like to think these features are proving very useful.
What's next in the pipeline for you?
I have some really cool jobs in the row. At the moment I'm done expanding the PP Air typeface, a nice typeface designed by Mat Desjardins. It is possibly one of the most challenging projects I've ever worked on – this is a big font family with a total of 36 cuts, so it's very easy to get lost in it all.
And finally, if you had to pair Mori with another typeface from Pangram's collection, what would you go for?
I particularly love the mix between typefaces with different approaches. I think that display fonts like ones from the Bitmap collection and Neue World would look amazing combined with Mori!
Fonts featured in
this article
Read
More ↓↓↓(Reading is good
for you)
Read
More ↓↓↓(Reading is good
for you)