Educational
Meet The Team: Valerio Monopoli
Getting to know the Pangram Pangram team, IRL.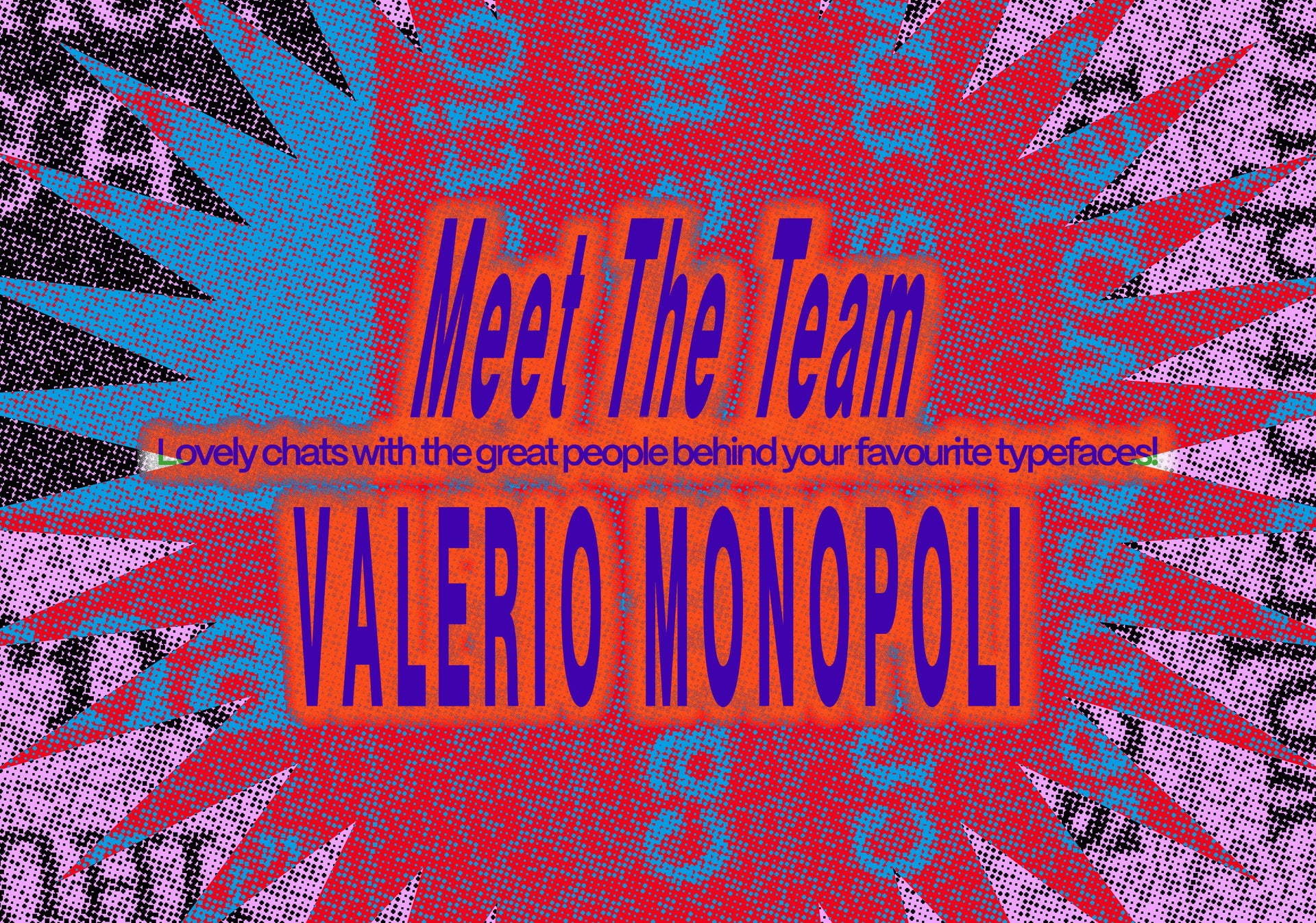 In the ever-changing, exciting world of type design, Valerio Monopoli has emerged as a distinctive Italian talent, now making his creative waves from Barcelona. His creative journey is indelibly marked by an unquenchable love for his craft, reflecting his unconventional approach and typographic passion across every typeface he crafts. Studiously infusing his own experiences in each and every letterform.
Valerio has already left a monumental mark on Pangram Pangram with the development of three original font families: Gatwick, Migra, and Räder. Each of these fonts carries a unique tale, showcasing his evolution as a type designer. He has also played a pivotal role as a lead type designer in Pangram Pangram's sister foundry, Off Type, creating an eclectic catalogue of original display fonts, each as weird and wicked as the last. (He's also responsible for a variant of PP's flagship sans serif Neue Montreal, which we are partiiiiiicularly big fans of.)

As he continues to playfully inform the typographic landscape, Valerio Monopoli invites us to explore his creativity and the uncharted territories of his design philosophy. We chat about finding the motivation to actually design type and not just chill on the beach, when letterforms start to truly dance with each other, and trying not to kill his plants. Let's get started, shall we?
Introduce yourself! Who are you, and what do you do?
VALERIO:
Hi, I'm Valerio, from Rome, nice to be read by you!
I'm a full-time type designer operating in the thriving design scene of Barcelona, although I'm mainly collaborating with foundries from France and Canada —primarily with The Pangram Pangram Foundry, who rescued me from the street 4 long years ago.
I spend the majority of my time designing unconventional display type, occasionally pulling out something readable and/or pleasant to the eye. When that happens, I feel very happy and I open a good bottle of wine.
What does a typical working day look like?
VALERIO: The first two or three hours are spent trying to find the motivation not to go chill at the beach instead. This process involves a series of (not always effective) grounding techniques like in-shower meditation, guitar noodling and seagull-spotting, to name a few. On the days these work, I head to a cute shared office, 15 minutes away from mine, where I keep all the tools needed to get some type design work done (a good chair.) and attack the projects I'm currently working on.
I pride myself on not having a very tight schedule and relying more on my sense of priority, so I can end up reorganising my drawers for some hours on the day before a major deadline, because that's the most pressing matter, as I'm sure you would agree. Once the important stuff is covered, the fun begins: a day can be all about sketching the same a 200 times, completing a character set with diacritics and currency symbols that will be used approximately 0,5 times in a commercial setting, or kerning and coding the contextual alternates required to make the word "Wallydraigle" look hella fine, just in case it'll ever appear.
While it may seem like so, this is actually NOT sarcasm! I truly, fully enjoy these activities, so much so that a working day can easily become a working night: I have a strong passion for type, if only in the biblical meaning of the term. 
In my experience, most type designers do.
What can't you live/work without at your desk space (other than a phone or computer)?
VALERIO: Small living organisms that I sometimes end up killing out of sheer negligence (AKA plants) and a boatload of fancy stationery.
How did you get started in type design, and what advice would you give to those wanting to get started?
VALERIO: "Since I was 2 years old I've always wanted to publish a versatile grotesque workhorse that could generate passive income to compensate for the ever-increasing rent prices." If you're doubting this answer, maybe you should rethink your long-term financial strategy? 
Now seriously, I started loving typography while I was using it on a daily basis in my editorial design practice. I remember feeling the urge to design custom letters for titles or page numbers within my projects, and after some time doing this I found myself enjoying type design even more than typesetting. The transition from one to the other was abrupt and clumsy. I wasn't particularly skilled, and that's probably why some friends back then discouraged me from trying, knowing full well that this "investment" wouldn't have had an immediate return. It was reasonable, wise, considerate advice… which I completely disregarded. So here we are! As cliche as it may sound, my tip is to ignore destructive criticism, especially when it comes from within.


What typefaces have you designed for PP?
VALERIO: I'm the (judiciously) proud father of three original font families for PP:
Gatwick, whose name is inspired by the fact that it looked cool (sometimes it comes down to just that), is a wide sans with flared terminals that draws some elements from oriental scripts, even though I wasn't quite aware of this influence at the time I designed it.
Migra, my personal best seller: a project in which I tried to let go of the few rules I had previously learned, only to realise they were there for a reason and spend the following two years formalising something that was originally created as a provocation. It resulted in a rather unique design, beloved by many, despised by some (me included, at some point).
Räder, an unsuspectedly challenging deco-infused DIN that eventually taught me how to automate my workflow through scripting and systematic thinking. It took this one a bit more than the others to be adopted by designers, but it's slowly breaking the barrier of real commercial usage.
I'm also involved as a lead type designer in Off Type, a new platform powered by PP for which I devised the inaugural catalogue, consisting of 9 original display fonts and a squeezed variant of PP's flagship font Neue Montreal. During these 4 years I frequently collaborated with PP's founder Mathieu Desjardins on updating some of the foundry's classics: you can expect to find my contribution in most of the "Neue" labelled products here in the catalogue.


What's your favourite PP that you didn't design?
VALERIO: I made no mystery in the past of being a huge fan of Alex Slobzheninov's work. I could pick any of the fonts he designed for PP, but I'm especially fond of the Right family: it's an outrageous display of consistency and attention to detail that culminates in one of the most versatile and recognisable fonts out there. 
I also find Eiko by Caio Kondo very interesting: it came out a few months after Migra and being somewhat in the same category, it showcased some ingenious alternative constructions that I hadn't considered before, and which I eventually started implementing in the following projects. It's a powerful example of minimalist elegance, from which I've learned a lot.
Although we never really collaborated on a typeface, I can undoubtedly feel the influence of these two designers in my own practice.
Where does your creative inspiration or design philosophy come from?
VALERIO: The type design industry is populated by many extremely talented professionals whose work I constantly check out and learn from, but my main source of inspiration is nature, in the least lyrical sense. The way I see it, writing systems are a collection of visual elements organised in a coherent grammar, just as much as any naturally occurring structure (including human-made ones). When we write, we are casting the shadow of reality on an immaterial communicative item to make it alive and visible, to give it a body. This body (of text) is a projection of nature, made of the same components. Identifying and isolating compelling visual particles is a work of photographic memory that can be easily outsourced to a camera, but mixing these configurations with the abstract idea of a letter we all share is where things become tricky. A reference that is too apparent can turn caricatural, but the absence of a distinctive grammar of reference often results in bland or derivative design. 
I have shouted iterations of this answer in somebody's ear at a party on several occasions.
What creative books are a must?
VALERIO: None of them are a must, I believe. I'm an avid reader of typographic manuals and essays myself, but theory only gets you so far in a craft so empirical as type design. What books really are good for in this specific case, is incarnating the directives they promote: I have personally learned much more about type design by using fonts or scanning examples of high-quality typesetting than from manuals, which are more often than not addressing the same bunch of well-known optical expedients or proposing lofty, all-encompassing conjectures, hardly in tune with the unprejudiced mindset required by contemporary type design.
When it comes to finding a theoretical framework for one's practice, I advocate for a hybrid approach: integrating well-established ideology with personal pragmatic observations can eventually lead to great stylistic breakthroughs.
What do you enjoy most about your job, and what is the biggest challenge?
VALERIO: There's a specific moment in any type project where the once isolated letters start to communicate, interact, even dance with each other, creating such a vibrant visual choreography it mesmerises even its author. It is for me an enthralling phenomenon, akin to a form of meditation. I find this feeling soothing and worth any challenges along the way, which are not too many after all…
Ok maybe interpolating diagonal stems is a pain in the a**.
Finally, let's spread the type love! Quite simply, what's your favourite typeface?
VALERIO: Unironically Papyrus, because at the moment I'm working on what might or might not be its spiritual heir and I'm discovering just how good the original design really is. If that font is a joke, it is unquestionably an excellent one.
Read
More ↓↓↓(Reading is good
for you)
Read
More ↓↓↓(Reading is good
for you)