Educational
The Best New Display Fonts
Five of the best affordable display typefaces from 2022.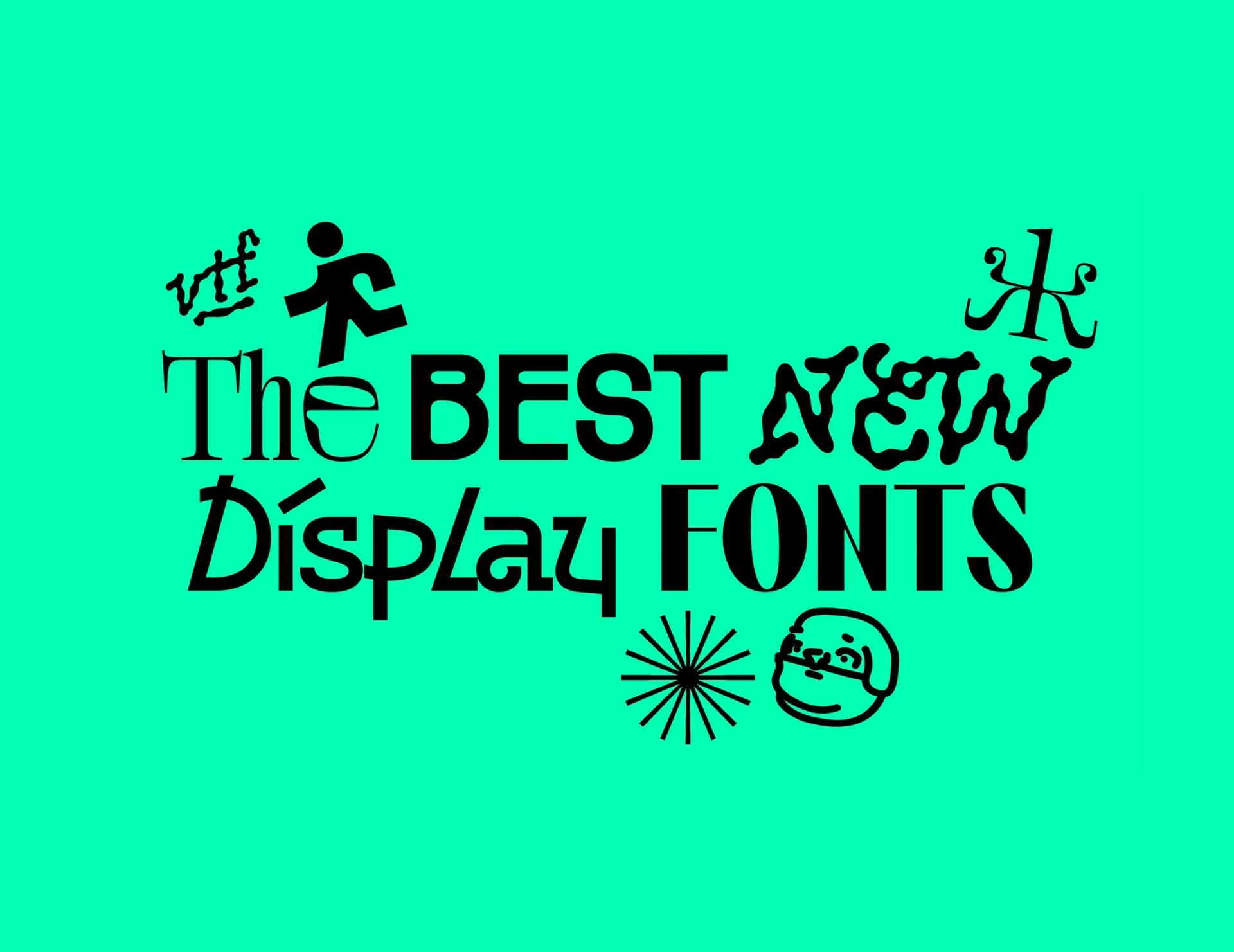 There are so many display fonts floating around on Instagram, and it's hard to know if they are good. Well, we're here to help.
We've compiled five of the best recently released display fonts – ranging from irreverent to elegant across sans and serif styles.

Display typefaces are often used for BIG statements, be it for identities, logos, editorial headlines and more. Throughout their eccentricities, quirks and peculiarities, these fonts can help provide a magazine or brand with the personality they need to cut through the noise of the bustling creative scene.

These larger-than-life fonts also find their spiritual home in posters, where the unique forms of display letters can provide the texture, structure and character of a piece's design – proud of their somewhat outlandish or decorative nature.

Our selection, however, goes beyond pure aesthetics. Within the following five fonts, you'll find a rich array of distinct typographic ingenuity, intelligently crafted to offer a practical, effortless experience alongside their technical rigour and vibrant appearance.


ACMA

Crafted to celebrate unconventionality, Pangram's latest release Acma makes for a remarkable display typeface. Through its elegant and unorthodox shapes, Acma's beauty is found within the irreverence of its design, balancing precise, crisp lines with fluid, opulence plunging letterforms.

Acma initially found inspiration in the modernist athletics of mid-century Japanese design, particularly within the fashion space, where its unconventional yet striking typographic rhythm creates a captivating sense of motion and form. These features are only accentuated by the inclusion of wide alternatives and its impressive collection of styles, including ten weights within a single variable file: high contrast, stylish curves, big impact.
PICNIC

PicNic is one of 2022's most playful fonts. Although designed primarily for French use, this innately organic, free-flowing, beautifully absurd typeface will make any language look as striking as the next. This technical achievement, which sees the font automatically adjusting text to include contextual and inclusive ligatures, found its inspiration and unique construction in marrying unusual (yet intrinsically related) forms. Noting the drop of water on oilcloth, the paths made by ants and the shadows of a tree's leaf as sources of inspiration, it's no surprise that PicNic makes for such a sensory, poetic and wonderful experience. Try pairing this with a typeface like Neue Montreal to ground it, juxtaposing pure expression with a more refined form.
ESTRAGON

Very soon to be released (make sure to check their early access page), Dinamo's semi-serif release is founded on an influence more academic than its wild letterforms may appear. Having spotted some truly distinctive wood-cut letterforms of the circa-1890 Abridged Specimens of Wood-letter by Harrild & Sons' Newand on the Type Foundries Archive, the team searched for more of the font that they found so inspiring. Unfortunately, their search was to no avail, with little information to no information found.

Rather than giving up, Dinamo decided to take matters into their own hands, beginning a contemporary reimagination of the typefaces. Now, after five years of development, Estragon has taken the rigidity of its legacy and replaced it with an eccentric, exciting, contextual-alternative-saturated font – available in various weights across three specific styles, Bubble, Arrow and Wildstyle. A wonderfully mad font.
NAN SUCCESS

Describing its inspirations as 'late Art-Nouveau typefaces, De Vinne, Louis Jou, mixed with a healthy amount of alien goo,' NaN Success' challenge of contemporary typography not only makes for a fascinating educational take on tilting typography but also makes for a genuinely striking font. Available in three families, Titling, Sans and Text, NaN Success features an impressive 280 ligatures per weight, suitable for both Latin and Cyrillic scripts, including an equally remarkable variability in width. From compressed to extra-wide, NaN Success offers a charming contrast through its intimate, hand-crafted tone and typographic practicality. Together, the two contrary spaces provide the best of both worlds and make for a striking display font.
RÄDER

For many, the inspiration of road signage would lead to practical, somewhat rigid typographic systems. For Räder, however, that is far from the case. Crafted as both an accessible editorial typeface and an elegant display font, Räder reimagines the playfulness of vintage road signage in the context of our contemporary digital world, optimised over 16 weights from hairline to bold.

Never compromising on either the clarity or character of its letterforms, Räder embodies the hand-rendered tone of its influence through an industrial lens, leaning into its analogue legacies in its rounded counters whilst providing an unparalleled, prolific abundance of contextual alternatives and utterly unique ligatures. So wherever you're looking to go, Räder will point you in the right direction.
Read
More ↓↓↓(Reading is good
for you)
Read
More ↓↓↓(Reading is good
for you)