Educational
Best editorial body copy fonts
Part Two of our exploration of editorial typefaces!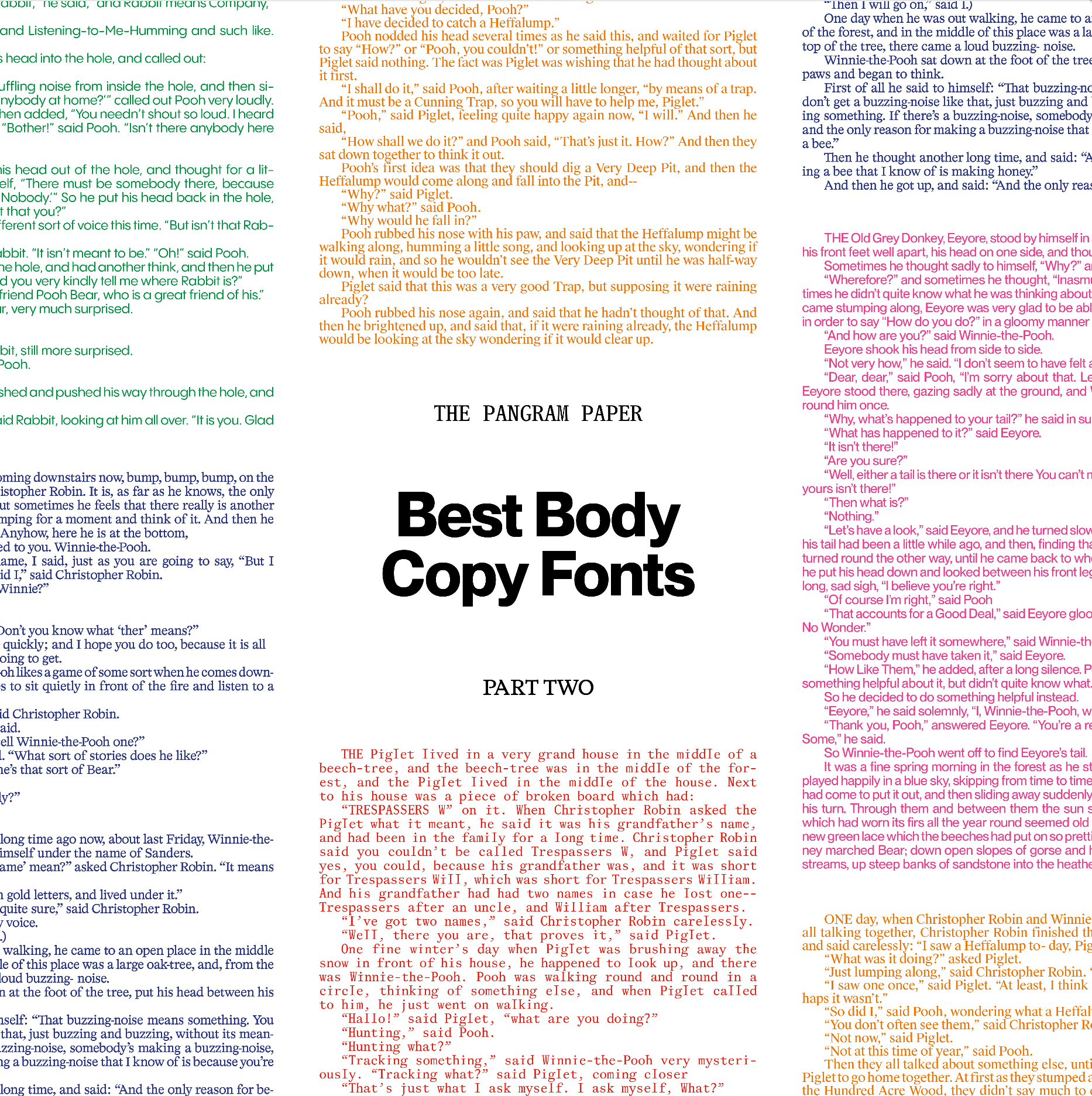 Editorial design is a satisfying endeavour; however, it can often be as tricky as it is rewarding.
There is always so much to consider, from hierarchy, grid systems, page count and furniture to dimensions, paper stock, printers and print deadlines. The killer consideration, though, as you'd expect, is the typeface choice. Headlines, details, body copy, pull quotes (the list goes on). And finding the answer can be quite a head-scratcher. That's why we're here!

This time around, we've looked at one of the important decisions in editorial design: the body copy typeface. Whether what you're currently working with is too characterful or just a bit too meh, choosing a typeface that both fits your project's concept, aesthetic and works well on a small scale can be difficult. With this list, we've tried to make things as easy as possible. With each typeface suggestion categorised, you'll hopefully find the perfect typeface that ticks all your editorial design boxes and strikes just the right mood – if not for this project, for your next one!

Without further ado, here are our top fonts for body copy!


SERIOUS: HAL Timezone by Hanzer Liccini
Depending on the project in hand, you may need a font that's a little more… serious? Well, HAL Timezone might just be a perfect choice. This low-contrast, weighty serif from Hanzer Liccini is as legible and practical on a small scale as it is charming at a macro one – with striking, slightly rounded edges optimising its legibility at both. In addition, Timezone's gutsy upright style is beautifully complemented by its playful italic counterpart – with its nod to classic French serifs giving your editorial design something you didn't know it was missing. Timezone as body copy can easily be seen, read and enjoyed – serious and sturdy, but definitely not boring.
We're biased, but Pangram Sans Rounded is one of our favourite typefaces ever. Whilst it works beautifully as a display headline, Pangram Sans Rounded's true strength is in its versatility and prolific variability. The playful geometric sans matches the power, legibility and workhorse-like nature of its counterpart, Pangram Sans but with a friendliness and character that sets it apart. With over 144 styles to its name, including ExtraBold Compact and its lesser known Reclined styles, if you're wanting a fun, friendly typeface that can work as anything from a caption to a pull quote, this is for you.
TECHNICAL: ABC Gaisyr by Dinamo
The argument of whether monospaced fonts are more legible than regular typefaces will continue to rage as long as the sun rises. The debate on the legibility, elegance and charm of Gaisyr by Dinamo, however, is long since done and dusted. Inspired by 18th Century's sketches of Jacques Jaugeon – the French royal typographer for King Louis XIV – the distinctive butterfly serifs and fluid yet engineered construction of Gaisyr make for not only a technical, practical feature but bring a certain je ne sais quoi to any project. Whether you use it for your main body copy font, or just for page numbers and captions as technical detailing, Gaisyr's engineering brings a touch of the digital to the printed page.
CLASSIC: Neue Montreal by Pangram Pangram
Neue Montreal – used loud and proud by designers across websites, brands and digital experiences – works just as perfectly for editorial design. Whilst it has been used prominently across many identities, notably within the rebrand of its namesake city's top team, Montreal FC – the sans serif is undeniably more versatile than just being used as a display font. Its precise, refined nature can pair with even the most expressive display typefaces as a solid, trusty body copy font. Elegant in its simplicity, if you're looking for a contemporary Helvetica alternative for your body copy, this is certainly it. With 14 weights and multi-lingual support, Neue Montreal is a timeless workhorse that effortlessly integrates into any editorial project, whether reserved or eccentric in its aesthetic. A classic in the making, if we do say so.
ELEGANT: Suisse Works by Swiss Typefaces
Suisse Works is your versatile typeface of choice if you're looking for sleek body copy. Efficiently spaced, optimised for print and digital applications, with corresponding italic, tapered serifs: the serif from Swiss Typefaces has all the credentials for a font well-suited for long-form texts; however, these practical claims are surpassed by its elegant, effortless construction. With eight styles, old-style figures and OpenType features too, it's an easy choice to make. Whether you're designing a book about fashion, or a pop culture magazine, Suisse Works brings an understated elegance that is effortlessly cool, and undeniably timeless.
Read
More ↓↓↓(Reading is good
for you)
Read
More ↓↓↓(Reading is good
for you)