Educational
Alternatives to Times New Roman
Five affordable alternatives to Times New Roman (Part One)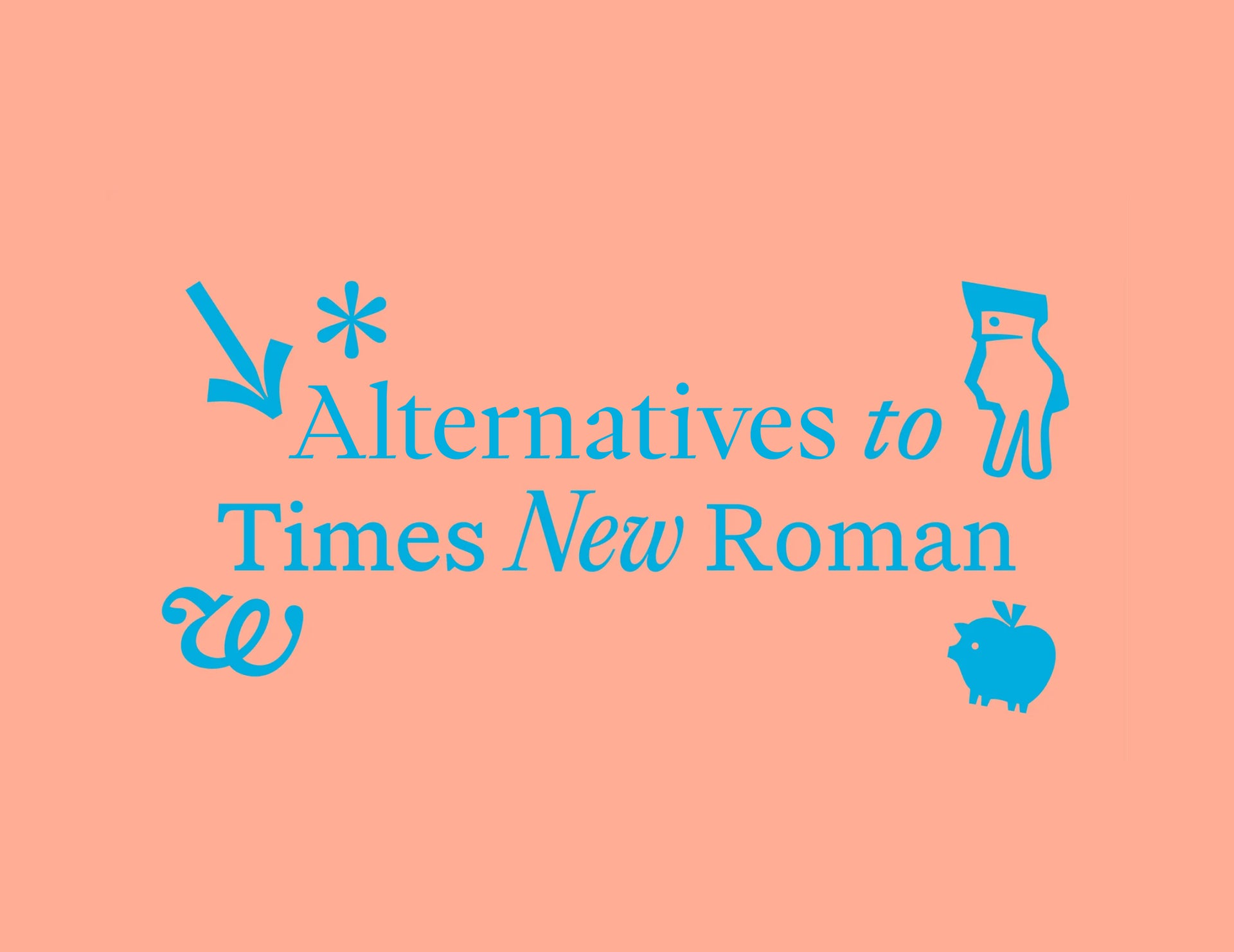 You've seen it in school, at work and on the go. It's inescapable. It's everywhere. It is… Times New Roman.
Now, Times New Roman certainly has its perks. The renowned serif font is highly legible and accessible, making it a very practical tool in any designer's arsenal, especially with its matching italic set and multiple weights. This is particularly handy when used in body text for functional documents and essays.

It also holds a fascinating history, tracing back to 1931, where London-based The Times Newspaper commissioned Stanley Morison of Monotype to craft the old-style serif. Structurally based on its historical counterpart, Plantin, the font was released the following year, when its notoriety began.

Since then, not only has it become a digital staple in everything from word processing documents, to school powerpoints and institutional forms and leaflets, it also holds a place in many designer's hearts as a 'default' option that genuinely maintains a level of character and charm.

It is, undoubtedly, a classic. That being said; it's always helpful to have other options. Here you'll find five of our top alternatives to Times New Roman, providing fun and functional options that bring something new to enliven your design projects.
WRITER

Whilst Times New Roman's influences date back to the early 20th Century, Pangram's latest serif release, Writer, takes things back a little bit further. Inspired by the proportions, contrast and modulation of 16th Century French Renaissance typography, this font not only elegantly fits the criteria of traditional text legibility but is arguably even more expansive than Times New Roman in its capabilities. With three distinct cuts and corresponding italics, alongside nine weights per cut, Writer is very prolific – stuffed with 744 glyphs per font, featuring ornaments, playful features and contextual alternatives. One of its cuts, Writer Text, is even optimised for body text between 6pt and 14pt. Quite the workhorse!
MARIST

Dinamo's latest serif release Marist, designed by renowned type design educator Seb McLauchlan, is perhaps the foundry's warmest and most accessible font to date – celebrating not only the legibility of serif fonts but also the legacy and lineage of Old-Style type. Designed following Seb's deep-dive into their histories, Marist draws on inspirations dated across historical Europe – from 15th Century France, where type designer Nicolas Jenson crafted his masterpiece, Venice, to William Morris' reinterpretation of Jenson's work over 400 years later. Fully committed to contemporary use, however, Marist is a modern-day workhorse, able to meet and succeed in any printed or digital requirements thrown its way. FYI, Marist is very new, so make sure to request access to its page on Dinamo's website. It's very easy and worth the ever-so-slight extra effort!
ALPINA

Grilli Type's Alpina is truly a roman serif of the 21st Century. With seven subfamilies across the variable font, packed full of OpenType features and expressive references to the genre's history, the character construction of this meticulous font is dutifully balanced, making for excellent legibility and typographic rhythm – optimised for virtual and tactile spaces. Furthermore, due to its variable nature, allowing its user to flex contrast, weight, width and proportionality, Alpina makes for an innately personal experience, setting your body or headline text however you specifically see fit.
UNTITLED SERIF

Despite leaning into the very meaning of the word default through the suggested absence of a name, Untitled Serif by Klim Type Foundry is anything but non-descript in its craft. With its references pre-dating Times New Roman, it is drawn to pay homage to the pre-Times old-style genre of typefaces, deliberately leaning into a ubiquitous feeling of having always existed. With six styles, ranging from Regular to Bold Italic, and featuring the likes of beautifully crafted old-style numerals and sloping italics, despite borrowing from a prolific and well established genre, this serif moves you away from the somewhat default option of Times New Roman, and provides you with a reliable, and genuinely beautiful, alternative.
EDITORIAL NEW

And finally, Pangram's very own answer to the question, "What if I googled looking for an alternative to Times New Roman? But actually, I think I want a really good looking serif that I could use for headlines and body text, and I'm open to what it looks like…" Well then, Editorial New is here to provide you with something a little bit different. This precisely designed, narrower serif was designed to work editorially in long-form copy, as well as holding its own as an elegant and personality-full headline. Balancing the contemporary, with just a little nod to the 90s, and with 16 styles (each with 463 glyphs) ranging from Thin to Heavy, Editorial New has the flex to be extremely bold and lead the design direction of a project, or to act as a workhorse that anchors your designs. It's a contemporary serif that is sure to stand the test of time.
Read
More ↓↓↓(Reading is good
for you)
Read
More ↓↓↓(Reading is good
for you)