Educational
Five contemporary alternatives to Helvetica — Part Two
Now it's time for something a little different

(5 minute read)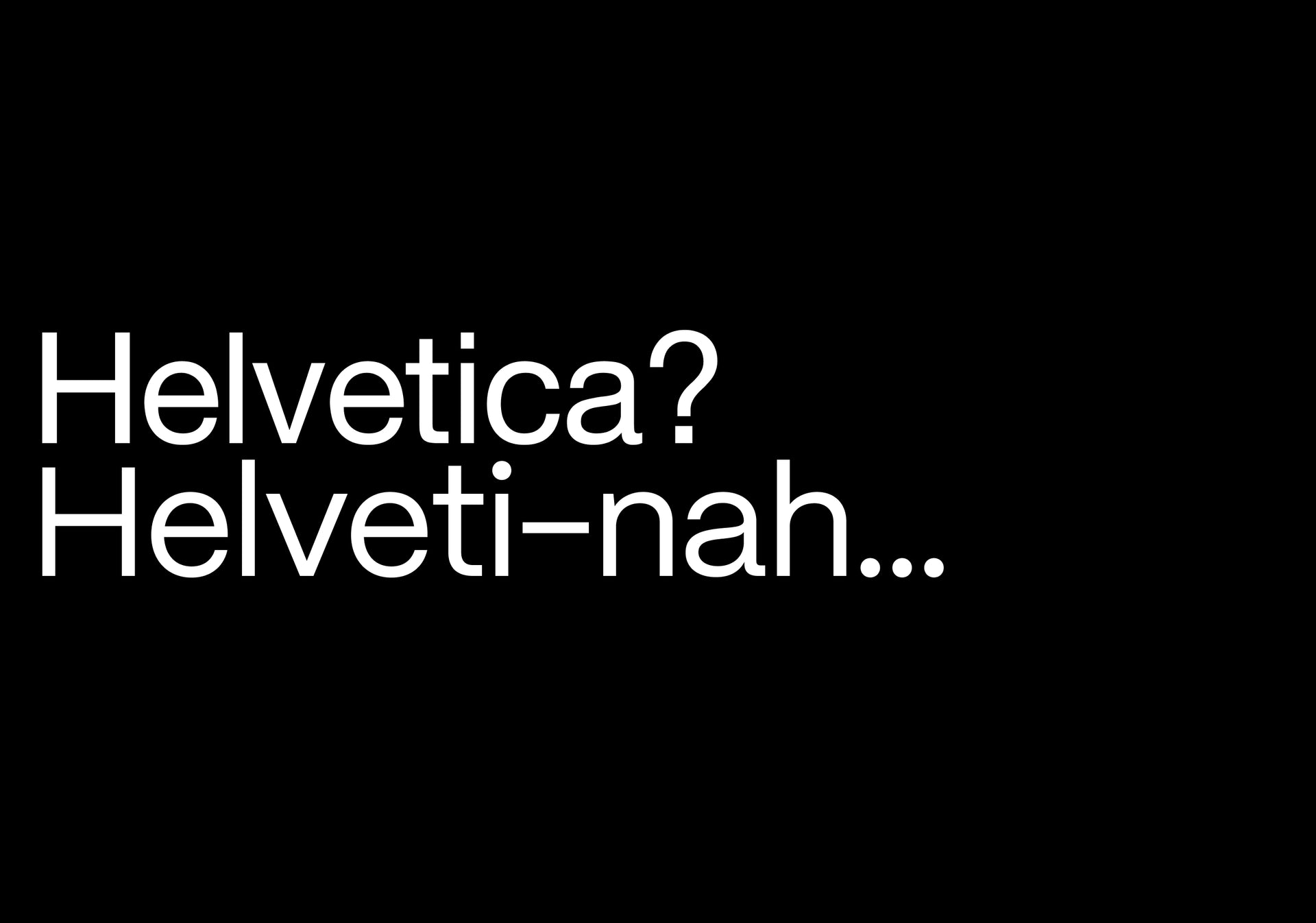 In part one of our alternatives to Helvetica series we showcased a variety of very faithful matches to the infamous sans serif. This time around, however, we're serving up something a little bit different that's still faithful enough to the clean, timeless vibes of Helvetica that we all love.
Today we're typographically branching out, offering a cool, calm and collected collection of Helvetica alternatives that still embody the stoic, sharp Grotesk sans serif energy like their historical counterparts whilst offering you an alternative that's a bit more… alternative. Perhaps Helvetica is simply your go-to, your easy win. Perhaps it feels like the right initial direction but you're unsure where to go from there. Either way, this list suggests some subversive, Helvetica-adjacent paths to follow that can shake up your typographic choices, whilst leaving you confident in the knowledge that these fonts can withstand the work and rigour that Helvetica is known for.
If you're looking for a less Western interpretation of a robust sans serif, Pangram Pangram's Mori, designed by Caio Kondo, is a phenomenal, versatile, heavy-duty sans serif that looks towards Japan for its typographic inspiration. With all the functionality you'd expect from a workhorse Grotesk, but with the uniquenesses for it to stand out from the crowd, Mori makes for a more characterful hero than Helvetica, but can also function as successfully as a supporting typeface across brands, books and more. Moreover, with over 16 styles to its name, you're totally spoilt for choice. With geometric elements peppered throughout the typeface's construction, Mori brings a friendliness that Helvetica does not, whilst still being able to remain neutral and bring a classic, considered feeling to the table.
A mid-century champion, Gerstner Programm is a seminal '60s Swiss sans serif Grotesk that, at its release, was the underdog, competing with the likes of Neue Haas Grotesk and Univers. Redrawn for the digital age, Forgotten Shape's Gerstner Programm revival is authentically period with all the mod-cons we've come to expect as standard in contemporary typefaces. Historical, accessible, characterful and cool, Gerstner Programm's take on neutral typefaces is forever fresh.
Designed from its semibold weight outwards, Klim Type's Söhne is a thoroughbred Grotesk, influenced by Akzidenz Grotesk, Helvetica and Standard Medium due to the abstract misremembering of NYC's Subway font choice. The result of this eclectic, efficient mix is a truly striking and determined typeface that is ultimately analogue in its tone, bringing an authentic, non-skeuomorphic tactility to any project it touches – be it printed or digital. Plus, if its medium weight doesn't quite cut the mustard, Söhne comes in three further styles, including a marvellous monospace.
Confident and comprehensive, Dinamo's ABC Monument Grotesk is a foundry fan-favourite, originating from sketches found by Kasper-Florio when diving into the archives of late 19th-century type foundry, Palmer & Rey. Having taken these scanned letterforms as its basis, Kasper-Florio took to completing reimagining the Grotesk skeleton, resulting in an idiosyncratic rival that offers a charm and tone that Helvetica simply can't provide – refined in its rawness.
If you feel Helvetica is just a tiny bit too plain, then Scto Grotesk is here to save the day. Distinctively charming and accessible, Schick Toikka sought to, and succeeded, in crafting an ultimate Grotesk typeface, striking a perfect balance between rationality, confidence and warmth, culminating in the all-purpose sans serif we see today. Ready and waiting with two style sets, A and B – optimised for whether you fancy something more standard or perhaps something a little more narrow (but not condensed) – Scto Grotesk is a proud tribute to the genre's typeface legacy whilst suggesting that the direction of the style need not be so cold.
Ok, so we said you'd be getting 5 options, but Radio Grotesk was too good not to mention, so here's a bonus number 6 for good luck! Bringing the Grotesk bang up to date, Radio Grotesk quite simply brings a contemporary energy to a long-standing type style, befitted with a 16-style armoury that readies the modern Pangram classic for whatever is thrown it's way. With stronger contrast than one might expect from a workhorse sans serif, alongside its beautiful close curves, Radio Grotesk is guaranteed to stand out from the crowd, setting new standards in the genre it subverts. The recent update of the typeface brings the total weights from 3 to 8, ranging all the way from thin through to black, with italics to match, making Radio Grotesk super flexible, whether you're wanting to typeset a 450 page book, or creating a striking logo for your project with the ultrabold weight.
Read
More ↓↓↓(Reading is good
for you)
Read
More ↓↓↓(Reading is good
for you)