Educational
Five contemporary alternatives to Helvetica – Part 1
Five free, affordable or free to try alternatives to the type design classic, Helvetica.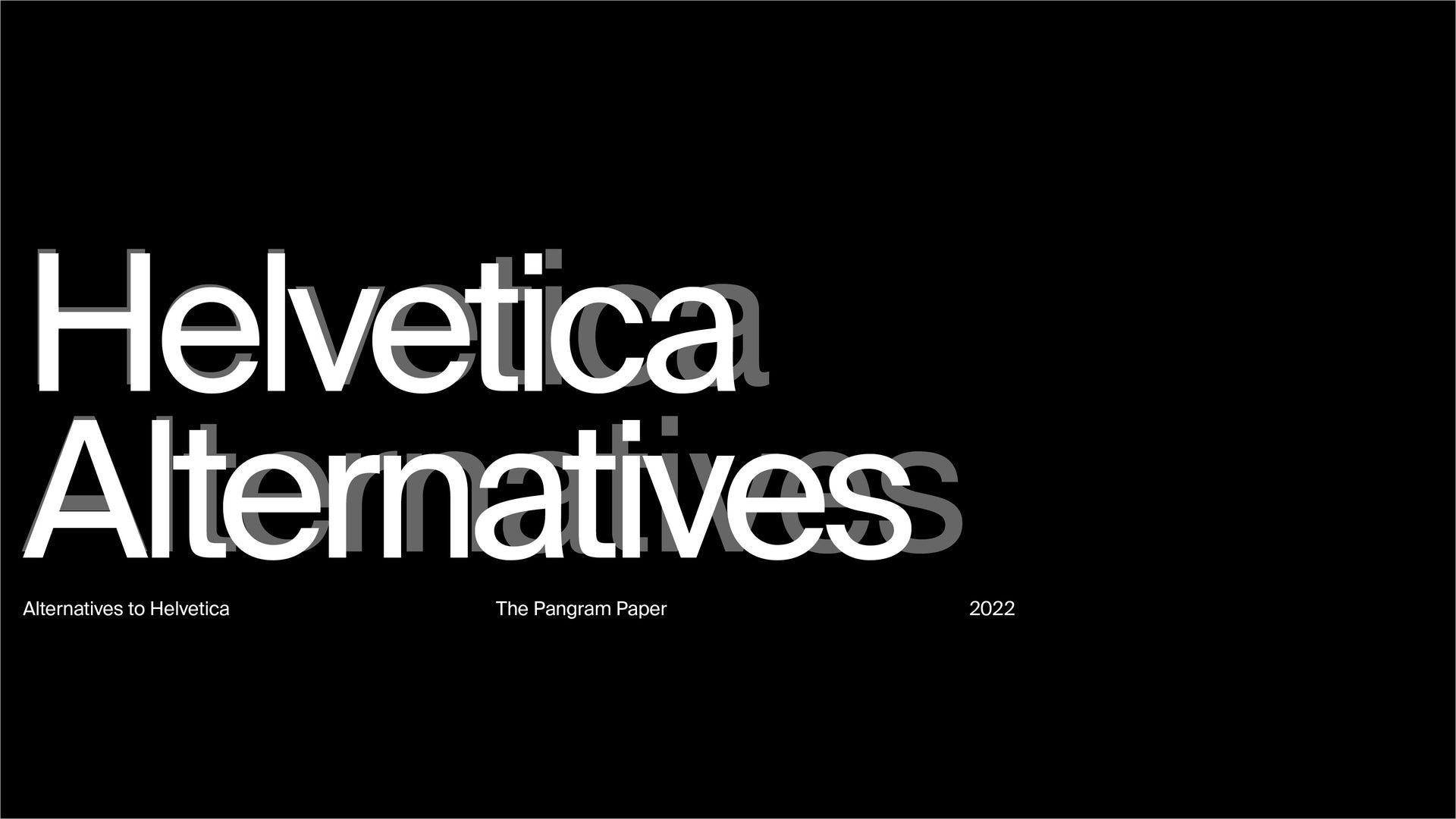 Whether you're a seasoned design heavy-weight, a recent student graduate or a junior creative, chances are – at one point or another – you may have leant on the trusty ol' classic, Helvetica.
Often seen as the 'set standard' or default in clean, stark, slick and Swiss design, Helvetica is a font that has stood the test of time, still used prolifically across brands, books, campaigns and screens, some since its 1957 release by Haas Type Foundry.

Designed by Max Miedinger and Eduard Hoffmann in the mid 20th Century, Helvetica is a neo-grotesque, based initially on Berthold Type Foundry's 1898 sans serif Akzidenz Grotesk, that was crafted with one goal in mind: neutrality.

It's unparalleled lineage and legacy are only matched by the functionality of it's design. With it's history still in the making, it's no surprise it is still used on the scale it is, living up to meticulous standards of legibility, scalability and clarity.

However, despite its pragmatic reputation, its popularity can often lead to it being over-saturated in the creative space… but that's where we come in! Here we've curated five contemporary alternatives to Helvetica, offering the same incredibly high practical standards as the Swiss classic, with their own unique character.
Marrying the two most common digital typefaces – Helvetica and Arial – Radim Pesko's Union stays true to its name, bringing together the shapely forms of both to create a unique, striking typeface, one as wonderfully pragmatic and utilitarian is its influence. Released in two weights (alongside corresponding italics), Union is a humble font that can stand up to any practical challenge.
With its inspirations dating back to Montreal's 1967 world expo, like Helvetica,Neue Montreal also carries a powerful legacy – one noticeable in the font's timeless Grotesque forms. With 14 weights and multilanguage, Cyrillic support, it's an understatement to call Neue Montreal versatile, effortlessly scaling from functional body copy to emboldened display headlines. A true contemporary champion of character and competence.
Ready to tackle any typographic task, from posters and display settings to meticulous digital or physical body copy, Rules is Blaze Type's remarkable modern interpretation of mid-century neo-grotesques. Taking the best of Swiss type design's structural traditions, Rules embraces its low-contrast, closed-terminal legacies, shaping a sturdy, elegant present-day counterpart – befitted with a contemporary twist, featuring squared-off endings and characterful capitals.
Florian Karsten's FK Grotesk is a utilitarian workhorse, packed to the rafters with digital details, including numerous stylistic sets, punctuation and numeral variants, expanded language support and OpenType features galore. Despite its flourishing credentials, however, the neo-grotesque is as grounded as its Helvetica and Univers-shaped inspirations, embracing their mechanic, systematic aesthetics whilst somewhat challenging the Swiss grotesque's opposition to geometric construction.
Ranging from Ultralight to Black, Swiss Typeface's Suisse Int'l 18-style, nine-weight expanding family lives up to the associations of the foundry and font's name, bringing the legacies of Swiss Style to the wider world – equally featuring Latin, Arabic and Cyrillic support. History aside, however, Suisse Int'l is a dependable, structural and striking workhorse, ready for applications both modern and modernist alike.
Read
More ↓↓↓(Reading is good
for you)
Read
More ↓↓↓(Reading is good
for you)