Educational
Getting to Grips: Go-To Typefaces
PP Design Basics' latest series starring Little Troop, Office of Demande Spéciale, OlssønBarbieri, Porto Rocha and TwoMuch Studio!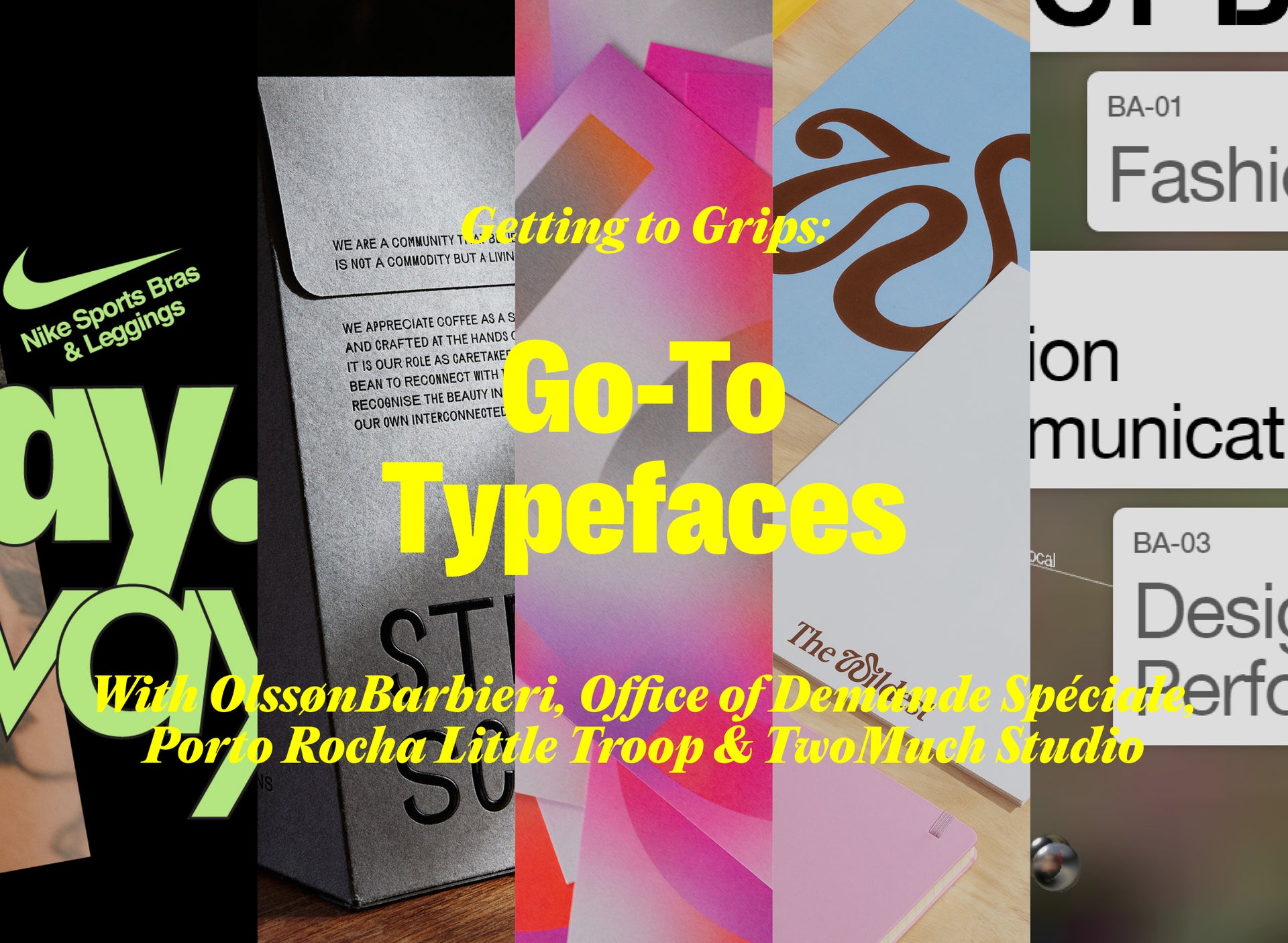 Welcome back to Design Basic's Getting to Grips! In this series we chat to industry pros, revealing the inside scoop on their processes, practices and preferences.
Everyone has their favourites; as humans, we just can't help it. As creatives, we (understandably) have our own niche favourites, be it favourite books, websites, paper stocks or studios. One argument, however, can be contentious; the favourite font. Now, we obviously have our own strong opinions here at Pangram Pangram (as you'd correctly assume); however, if there is one thing we love more than our wonderful font catalogue, it's typographic creativity – in whatever letterform that may take!

Promising an unbiased look at people's favourite typefaces out there, we've spoken to our resident creatives at Getting To Grips' about their current go-to fonts. Maybe you'll find a new favourite!

Over to you, dream team!
WHAT ARE YOUR FAVOURITE/GO-TO TYPEFACES RIGHT NOW?
NO: Hmmm. I usually have an answer to this but I think you caught me in a middle period! I've had a lot of love for Scto Grotesk and ITC Cushing this past year, but recently I think I've been reviving my appreciation for the classics and revivals (Century OS, ITC Caslon, Garamond, Jannon) that can be used in a more contemporary way. There's a beautiful thing in certain contrasts and tensions.

We also used Neue Montreal in the rebranding of Upwork.
OB: We have a soft spot for really inclined italics! For our projects for Ambijus we used Ostia and for Picoron we opted for Bourrasque, both by Bureau Brut!
 But we also love experimental and expressive fonts. In one of our latest projects, Stereoscope, a speciality coffee in Los Angeles, we worked with Brunswick Grotesque from Dennis Grauel, a font that comprises 5 distinct widths combined randomly to communicate that coffee is not a commodity but a living organism.
TMS: We have a few which we keep coming back to at the moment;

Diatype by ABC Dinamo, this one we've been using quite a lot recently. A really nice everyday san serif which fits in pretty much anywhere.

Editorial New by Pangram Pangram, a solid serif, super elegant and clean.

Office Times Round Mono by Boulevard Lab, a lovely serif mono font with rounded edges.

Tex Gyre, a nice replacement for Helvetica. We still love Helvetica but this is the version we tend to lean towards most. As an added bonus, it's open source. There is also a condensed version which we are also a fan of and use frequently.
LT: Ooh, good question! We're loving seeing some of the re-drawn cuts of the classics start to emerge — new versions of Helvetica (eg. Neue Haas), Futura (eg. Supreme), Times (eg. Office) etc. that have been slightly updated to make them feel new. We tend to stay away from anything of-the-moment that feels overused, so our favorite typefaces are often ones that we've found in odd places, or that we can take and customize to make our own.
I'm all about Times and Helvetica Now.

And not just right now, it's been a while since they're my go-to when I need a clean, simple and reliable typeface.

We're also using a bespoke cut of Neue Montreal in our current branding.
Read
More ↓↓↓(Reading is good
for you)
Read
More ↓↓↓(Reading is good
for you)