Backstage
Backstage with PP Fragment's Francesca Bolognini
In conversation with the designer of our latest release, PP Fragment, Francesca Bolognini discusses the typeface's who, what, where, when, why, and how.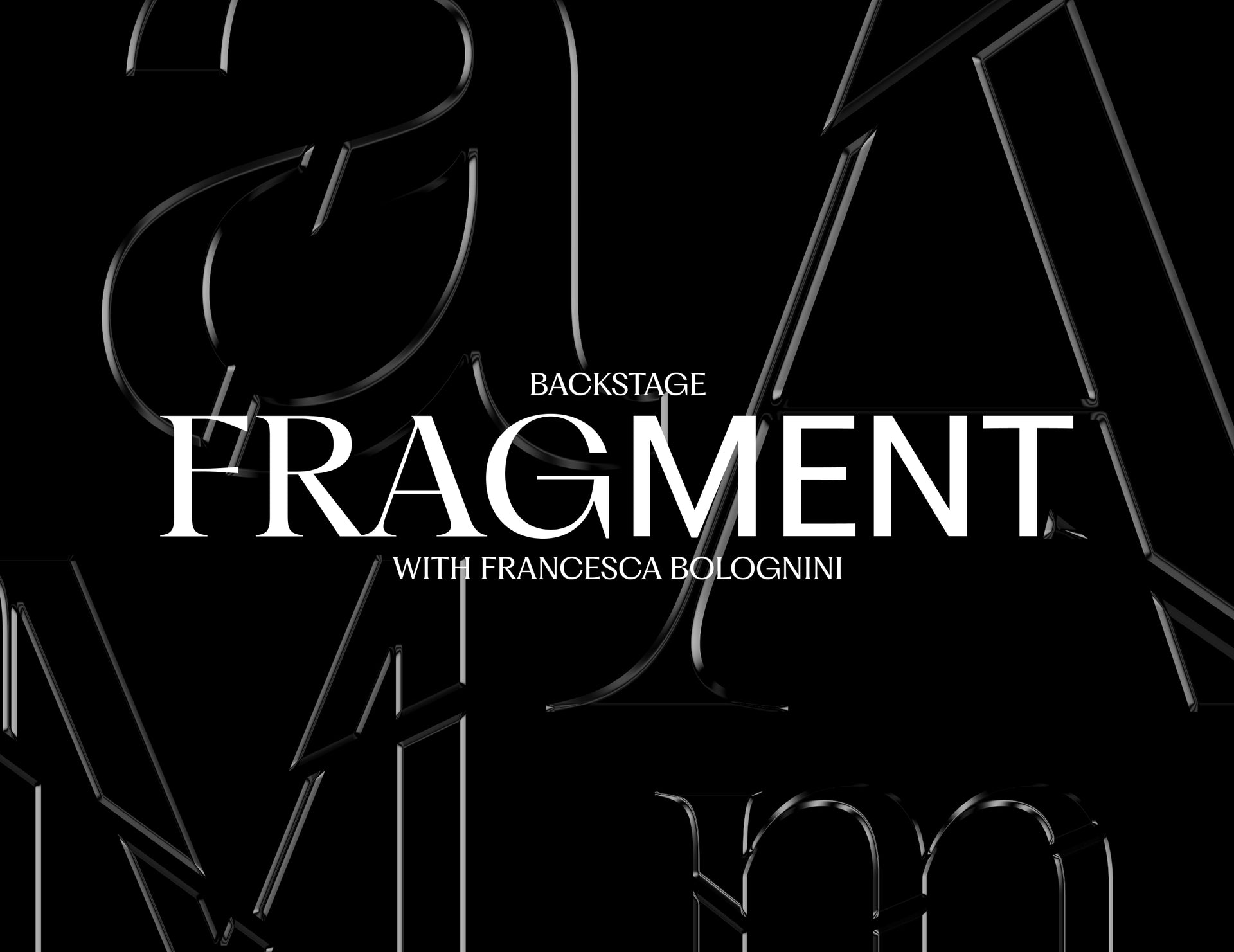 Welcome back to Backstage! This time in conversation with PP Fragment's designer, Francesca Bolognini.
Pangram's 35th typeface release PP Fragment, from the mind of Italian-born and Montréal-based type designer Francesca Bolognini, offers a bridge between contemporary culture and the legacy of 19th-Century typography – having found its origins in vintage signage and lettering from the period. Striking, divergent and fundamentally comprehensive, the typographic hybrid comes in 32 unique weights and four distinct yet complementary styles; Sans, Serif, Glare, and Text. Notably, ranging from Sans Serif to Serif (all in one typeface!).

With over 581 glyphs and alternate symbols to play with, there's undoubtedly plenty to explore. So we've turned to the women behind the wizardry! We've chatted to Francesca about all things Fragment! From the origin of its name and the inspiration behind the typeface, to her favourite glyph and the future of the comprehensive family.
Hey Francesca! We (obviously) love PP Fragment and would love to know more! First off, where did the name come from? Why Fragment?
Hi Alice and Harry! Great, I am glad you love it. It's been substantial work, and I am happy it has been released!

The name came during a coffee meet! Mat and I had a few names in mind, but nothing was utterly satisfying.
Finally, towards the end of the project, while reviewing together, we were pondering over the different aspects of the font and how it changes, like parts of the same glass looked from different perspectives. And suddenly, the word "Fragment" came up.

We both loved it instantly.
Where does the story of PP Fragment begin? Where did the inspiration come from, and what drew you to the challenge?
At the very beginning of the project, what we had in mind was to create a sort of Hatton V2.0. From here, I quickly move forward, investigating a large family ranging from Sans to Serif. A wide family representing the mood of late 19th-century and early 20th-century sign painting and typography.

I also wanted to make a font that spoke of all the different industrial cities I lived in, Milan, London, Boston, and Montreal, and from which I absorbed their heritage
What was the process behind the time spent designing PP Fragment, and what did you find out along the way? Were there any key turning points in the development of the typeface or an 'I've got it!' moment?
Obviously, being a big family, there was substantial initial testing. Variable fonts are still a great challenge—I wanted to design the font efficiently. However, years of experience have taught me that a good initial setup can save you significant time down the road.

There were no turning points, just constant improvements and refinements till we felt confident we had a great design.
Having examined old typographic signage when designing PP Fragment, what were the most significant things to consider within the typeface's construction to keep the essence of its inspiration with a contemporary, original twist?
The font proportions are what create most of the reminiscences of the past.
PP Fragment has four styles, ranging from Sans to glare Serif. What was the most challenging factor in crafting a consistent typeface that translates to both genres?
The construction of the terminals and the balanced of the contrast was probably the most challenging aspect. For example, a specific letter construction might work in one style but not the other and against the rest. So we had to find solutions that were right everywhere.
What was the most rewarding part of the process when researching, designing and finalising PP Fragment?
Our first sketches were already promising, so we constantly got more excited as we moved forward with the design.
Time for some quickfire questions! What's your favourite Fragment glyph?
The Gg, up and lowercase.
Do you have a favourite Fragment Style?
No, I can see the delight in using them all.
What was the hardest glyph to finish?
No glyph is ever complete; probably the most challenging aspect is to accept just that.
What style was the most fun to draw?
I enjoyed drawing each, but maybe if I had to pick would be the Sans Black.
If you could reimagine any other historical typeface, what would it be and why?
I just want to specify that PP Fragment is not a revival font. Instead, it is a font inspired by historical hints and references. Revivals are fun. I already have a few in the pipeline that I would like to see finished.

For example, while I did my Master's at KABK, 16 years ago, I worked on a revival of an early 20th-century typeface designed by the French typographer Charles Beaudoire. This is a true revival, and the drawing are based on the original typeface. I never managed to finish it and release it; it would be a beautiful to-do so
What project would you love someone to use PP Fragment for in a dream world? A dream client, brand or anything else you might like!
I would just appreciate seeing it well-used! But I am sure this will be the case considering the type of clienteles Pangram attracts.
Are you already thinking about future versions of PP Fragment? What would you like to implement looking ahead?
We would definitely love to add Italics companions as a first step if the font is well received. Maybe later an Arabic, that could be fun!
Read
More ↓↓↓(Reading is good
for you)
Read
More ↓↓↓(Reading is good
for you)