Educational
Design Insights: The Creative Process from Briefing to Delivery
Welcome to Design Insights! Here seven remarkable practitioners and studios discuss the creative and the practical side of working in the design scene.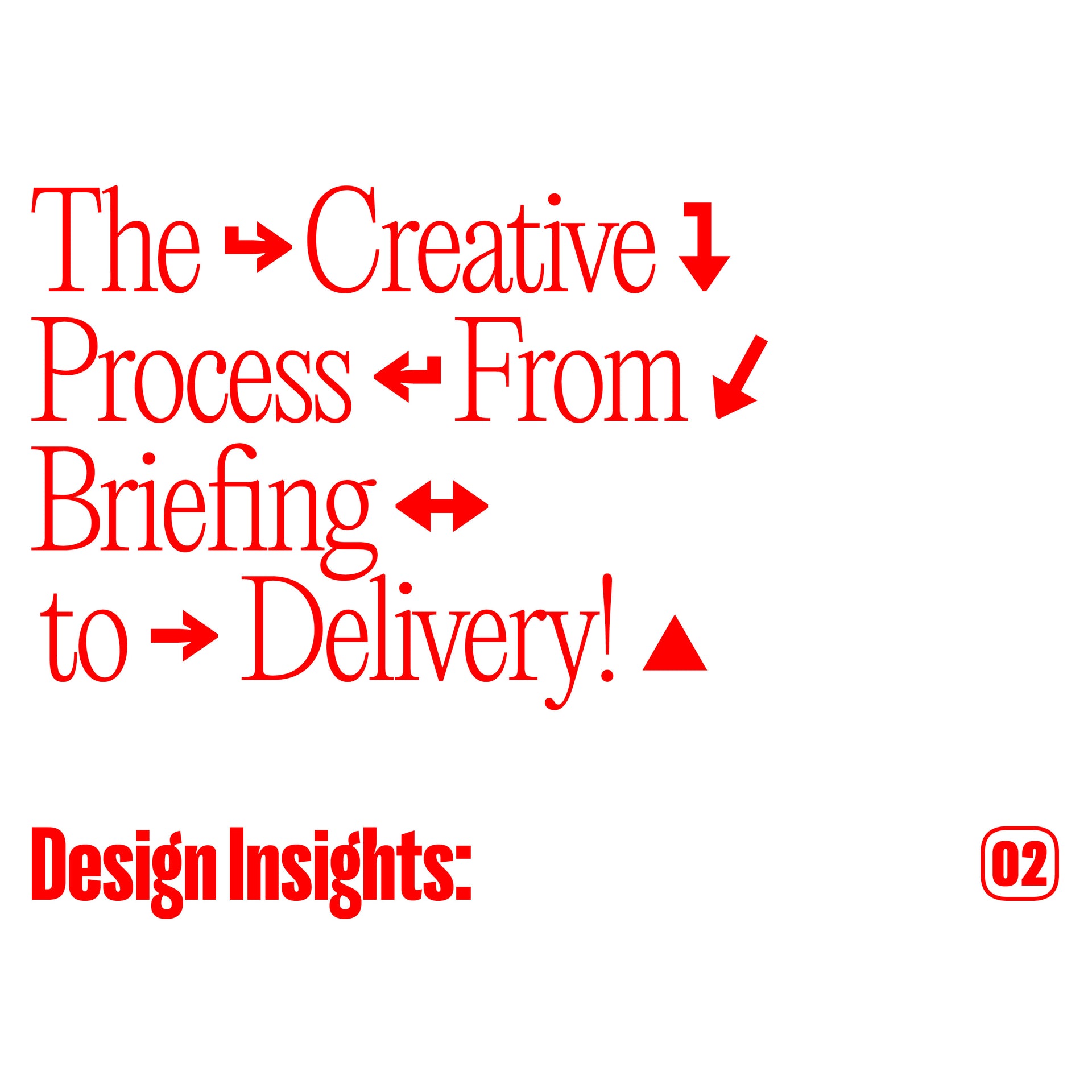 Welcome back to Design Insights!
This week, we're going big… really big! Chatting with our resident creatives, we'll run through the practical creative process of undergoing a project – from the very first briefing all the way to delivery. There is certainly a lot to consider along the way (especially your own sanity!), so keep an ear out for our creative's advice on confidence, persistence and improvisation.

Over to you, team!
WHAT IS YOUR PRACTICAL CREATIVE PROCESS FROM BRIEFING TO DELIVERY?
I'll give you the long, ideal version – but realistically, sometimes this needs to change if there isn't a budget to go into this level of detail.

I have to start with a concept phase that touches on some semi-strategic thinking but more from a design perspective. Things like where it's right to position the identity visually, what should the brand personality, values and essence be, where does the brand draw inspiration from, and how does this all feed into the visual approach. This stage doesn't have any design work but is more concept and image-based. I find this one of the most important parts of a project. It not only really helps the client to feel confident in the direction you then pursue, but it also helps me to connect with the brand and find something more human to invest in emotionally.
Then this stage is followed by the initial design phase, where I try to only present one or two routes. It comes off the back of the previous stage and how open the conversation feels at that point. Sometimes it feels like if you've got the strategy and concept part right, then there's honestly just one route that makes the most sense. It's harder to sell people on the idea of one route, though, so I might say – let me show you one, and then we can come back and try another if this feels wrong. This is quite good, as it gives you that opportunity to realise any misalignments early on in the visual approach.

This is then followed by two rounds of amendments to the chosen direction, an artworking phase where you prepare everything for handing over to the client and any production partners, and a guidelines phase where you share the ins and outs of the design system so that they can be used by the client and any relevant design teams going forward. This stage varies in length depending on the scope of the project.
Review the Brief, Plan, Ideate, Collaborate, Develop, Re-evaluate, then Deliver (in some cases, Overdeliver).
My practical process usually stays the same, collecting all the tools I'll need from the client, and setting up filing systems and timesheets. I'll save every new stage of the project so I have older versions and usually make a supplied folder when the project is coming to an end that will have all final assets saved. The creative process isn't as straightforward and can change depending on project type, if I'm working with a personal client or an agency, how quickly the project needs to be delivered etc.
Keep making work until it's time to present. Seriously? Most of it is editing yourself, researching, exploring then editing. But remember it's never too late to throw it all out if a better idea comes along.
Creative Directors Julie Vander Herberg and Anna Vander Herberg of Vanderbrand
There are a lot of steps that go into our creative process and it's not a straight line from A to B. The process of completing a project is not always the same when you are a creative. Research is the foundation of our entire creative process as we believe our design solutions should be a practical output of the research. Our team is constantly finding ways to be more efficient and there is always room to improve or learn something new.
We have a four-stage process we take any client through, whether it be a two-week sprint or a longer project lasting months. It's helped us keep aligned with the client, from formulating an accurate brief and providing creative and strategic direction to delivering concepts and handing over the final product.
In our experience, no projects are exactly the same. However, we do our best to follow a simple process, allowing creativity to run wild, but not off track or over time (or budget). Our process is outlined below: 
Scoping: 
We spend a considerable time getting the scope of the project right. This is not only handled by the project lead, but in close collaboration with the strategic lead and creative lead, whom all three share the responsibility for a project from start to finish. The final scope of the project is then signed off with the client. 
Research: 
We spend a lot of time uncovering the insights from which we build. We rarely do quantitative research, but we analyze the data available and crystallize into insights that can be built from. We also conduct qualitative research, which oftens entails desktop, interviews, immersions or alternative research that can help us uncover meaningful insights. This phase typically concludes with a research / insights deck, which is signed off with the client, and lays the foundation for the following strategy work. 
Strategy: 
Based on our research and insights we craft the strategy, the content of which depends on the project e.g. positioning, purpose, target audience definitions, brand strategy etc. This phase concludes in a strategy deck and an internal creative brief that will be the basis for applying the creative layer to a given project. Both signed off by the client to ensure alignment. 
Creative: 
Based on the strategy and creative brief, we start exploring how we can bring the brand to life. This starts with broad creative exploration, whereafter we narrow in, to define a clear creative direction that we and the client believe in. This is an iterative process, where ideas are shared frequently with the client, to ensure buy-in and alignment. And of course overall creative quality. Once the creative direction is signed off, we apply brand or creative solutions to all agreed deliverables. This is also an iterative process, where we test the boundaries of solutions and adjust if needed. Once all deliverables have been applied, we hand them over to the client and assist from the sidelines with implementation, to ensure the original vision matches the final execution. 
Evaluation: 
Once the project is completed, we evaluate internally and with the client (and potential collaborators) to ensure all learnings from the process and project can be leveraged to create better processes, collaborations and outcomes in the future.
Read
More ↓↓↓(Reading is good
for you)
Read
More ↓↓↓(Reading is good
for you)