Educational
Alternatives to Arial
Contemporary alternatives to the Microsoft Word classic.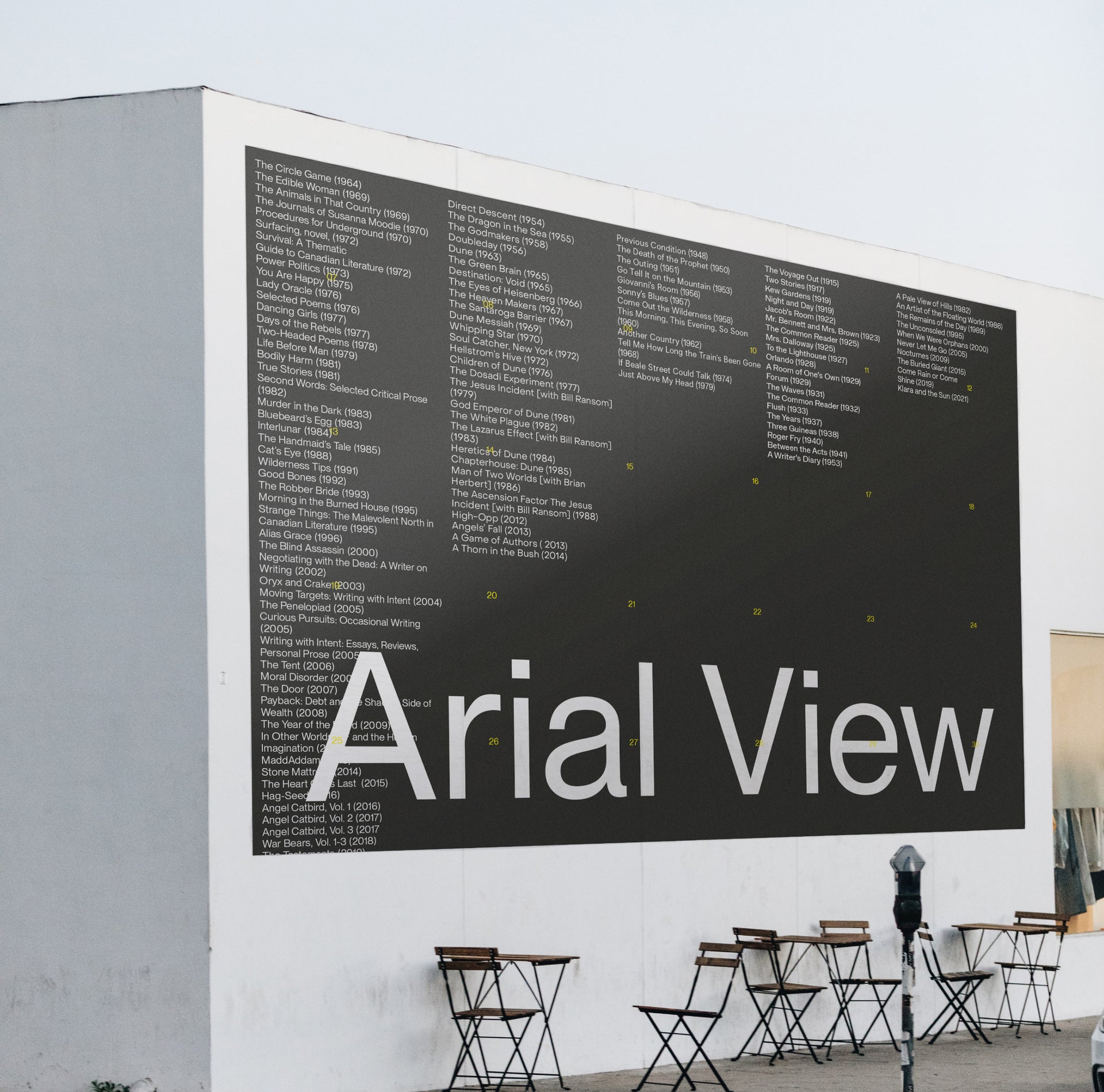 Introducing Arial: a ubiquitous and practical typeface that has left its mark on the world of typography for decades. One you probably know very well.
Created by Monotype in 1982 and gloriously featured on all versions of Microsoft Windows from Windows 3.1, Arial is a neo-grotesque sans-serif font designed to be a modern and versatile choice for non-designers and designers alike.
Having successfully left its mark on the world as a ubiquitous, practical and… boring typeface, there are certainly mixed feelings on the Monotype x Microsoft classic, but its pragmatic design is quite undeniable. (👀As a slight interruption to this article we come at you with a hint to go hunt down Arial Narrow if you've never seen it before, it's one of our faves!) With clean lines and simple shapes, Arial is incredibly legible across print and digital spaces, making it a popular choice for those who are less picky about what font to use. As such, you can see why maybe exploring some alternatives is an excellent way to go.
Arial has served its purpose well over the years, but across this article, we'll explore some alternative fonts that offer a more diverse range of characteristics, styles, and functionalities – certainly bringing something a little extra and a little special to your typography arsenal. The modern typographic landscape is shifting, and as the design world evolves, it's time to explore out of your familiar aesthetic comfort zones.
In a world saturated with ubiquitous typefaces, searching for an alternative that strikes the perfect balance between functionality and distinctive character can be challenging. This is where Pangram Pangram's Neue Montreal steps into the spotlight, offering a refreshing departure from the mundane.
Neue Montreal is not your everyday typeface; it's a versatile, contemporary Grotesque workhorse that's a testament to the artistry and innovation that defines Pangram Pangram's approach to typography. Featuring 14 meticulously crafted weights – seven uprights and seven italics – Neue Montreal's practically knows no bounds, adapting effortlessly to a wide array of printed and virtual spaces projects. Not to mention, an off-beat, squeezed version is coming your way veeeeeery soon 🤫.
Seamlessly interweaving the finest attributes found in Swiss neo-grotesks and geometric fonts, Object Sans is not your run-of-the-mill type family. Crafted with precision and imagination, this typeface is a true multitasker, effortlessly adapting to a plethora of design contexts. Moreover, with 16 meticulously designed styles at your disposal, Object Sans offers a wealth of possibilities that rival the restrained uniformity of Arial. Embodying a distinctive, multifunctional energy, Object Sans's regular weight is thoughtfully optimized for small-sized body text, ensuring legibility without compromising its visual impact.
Lars by Bold Decision
Crafted to meet the discerning demands and the versatility that designers crave, Lars by Bold Decision illustrates the type foundry's meticulous design philosophy. Created with a steadfast adherence to proud principles, Lars embodies impartiality and versatility, setting it apart as a true alternative to Arial's ubiquity, beautifully sculpted to achieve a neutral yet powerful aesthetic, flaunting striking, stylistic sets and tonnes of techy features. In a design landscape that craves distinctiveness without compromising versatility, Lars is a champion of balance, eclipsing the mundane in favour of precision and versatility.
Known for their innovative spirit, the latest typeface from the much-loved typographic practice, NaN, is somewhat of a distinctive departure from convention. A global workhorse embracing and subverting Neo-Grotesk expectations, Metrify acknowledges the genre's pervasive nature while redefining it for a world that demands inclusivity and versatility. This rebellion against the norm is reflected in the typeface name itself; a symbolic blend of metric precision and audacious innovation. With nine widths, six weights, and corresponding italics, it also has a lot to boast about, showcasing a typographic spectrum ranging from Compressed and Gigawide. Also, it comes befitted with Arabic, Cyrillic, Greek, Hebrew, Thai, Pan-African, and Pan-European script support, truly embodying the global spirit of typographic evolution and diversity.
Mori by Pangram Pangram
A versatile and sophisticated sans serif breathing new life into the typographic world – whilst also offering a super compelling alternative to Arial's mundanity – Pangram Pangram's Mori is certainly a typeface every designer should have at the ready. Inspired by contemporary Japanese design, the gothic font designed by Caio Kondo explores the unique visual cues of Eastern and Western typography in the context of rigorous capacity, character and versatility. From the light whispers of ExtraLight to the commanding presence of ExtraBold, Mori boasts a comprehensive range of 16 styles, each comprising a staggering 597 glyphs. As becomes apparent, however, Mori isn't just about quantity, but instead, the artistry of detail, revealing a treasure trove of subtle shapes and curves, standing as a testament to Kondo's creativity. Furthermore, its distinctive geometric 'r' and double-story 'g' add an intriguing flair, capturing the essence of Mori's personality, and alluding to the abundance of charm present at every level of its design – from diacritics to dingbats. Far from simply a workhorse Grotesk, Mori is a captivating symphony of forms and details.
Read
More ↓↓↓(Reading is good
for you)
Read
More ↓↓↓(Reading is good
for you)