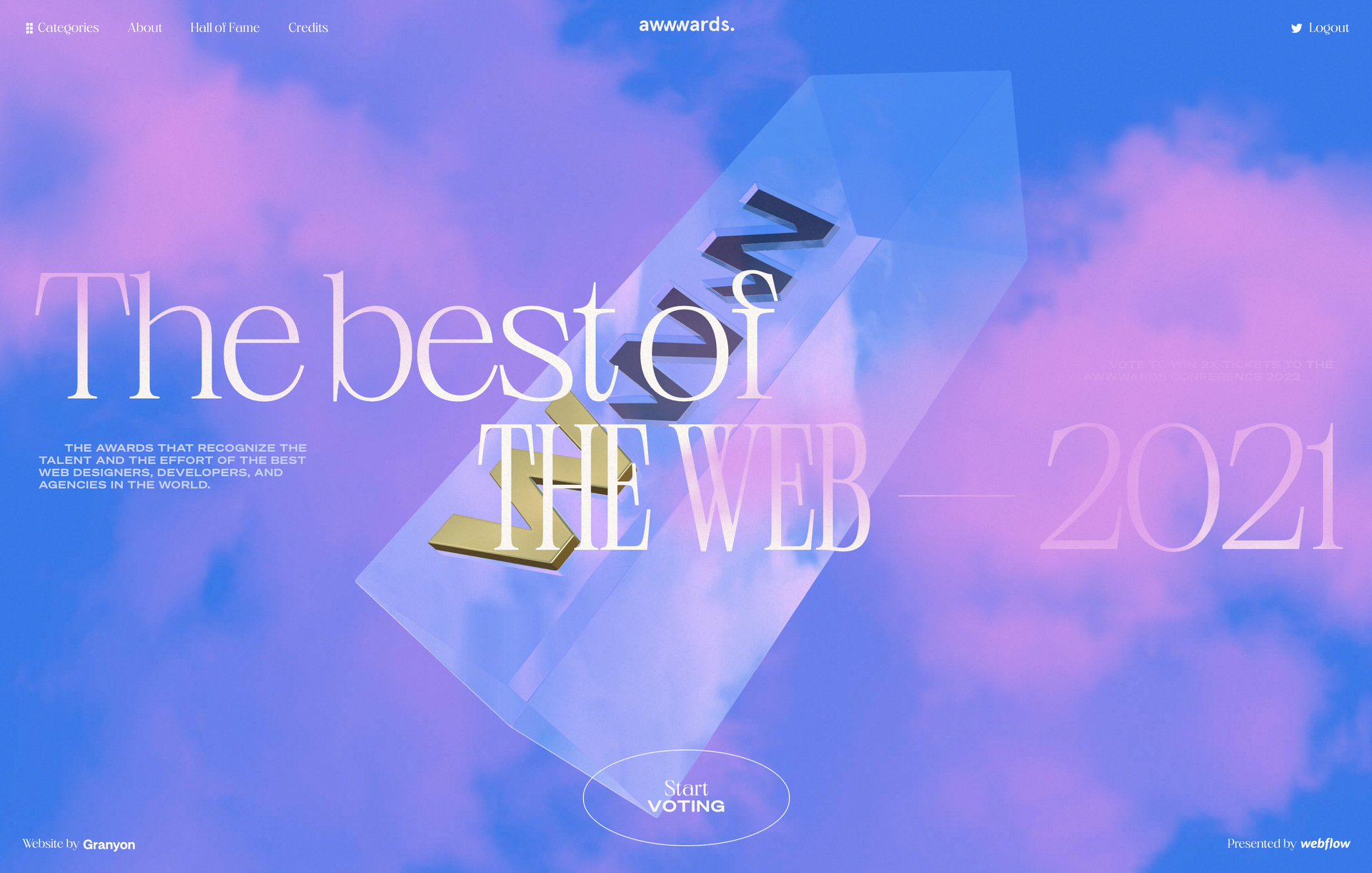 Dreamy, floating, soft, pink clouds. The feeling when laying in the grass, looking upon the bright sky, and dreaming about being nominated or even winning the most important prize in the world of web design – an annual awwwards. This was the moment we staged when creating the Annual Awards 2021 site for Awwwards.
Awwwards is a community of designers that dream together. Awwwards recognize the talent and the effort of the best web designers, developers, and agencies in the world. Each year, a special website is created to celebrate the best of the best in the world of web design. Because of Granyon's portfolio of projects made in Webflow, we were chosen to design the voting platform in collaboration with Awwwards for this year's Annual Awards – and what an honor!

The result is a floaty, bright, and minimalistic site – a celebration of the Awwwards community and all the beautiful, creative work from designers and developers worldwide.
Voting is still open and Pangram Pangram is nominated!

Go vote for our nominations in Website of the Year and Ecommerce Site of the Year categories.
Being on cloud nine
Once you're nominated or your work is selected for a prize, you're on cloud nine – a state of extreme happiness and euphoria, where everything is light, bright, and pleasant. The website design is built upon layers of skies and a 3D visualization of the Awwward statuette. Together they create an experience of depth at the site and add a floating and light feeling.
A celebration of dreams and the Awwwards community
Imagine yourself lying in the grass, dreaming yourself away. You look up into a pink sky, indicating that something better is on its way – maybe even an Awwwards nomination. The visual concept is a celebration of the Awwwards community. It's a celebration of dreaming big – together.
Innovation, elegance, creativity
Awwwards describe themselves as a 'meeting point,' where digital design professionals from across the globe find inspiration, impart knowledge and experience, connect, and share constructive, respectful critiques. It's a big achievement to be one selected as the best of the web 2021. Therefore, we wanted the site for Annual Awards 2021 to promote and celebrate the nominated in the best way possible.
Keeping it simple and clean
It was important for us to create a great balance between a special interactive web experience and a well-working performance. The platform is kept simple and clean in its design, making sure that the voting experience is still intuitive and user-friendly.
Created in Webflow
As a creative challenge, the website is designed in the no-code CMS system Webflow, which is this year's main sponsor of the event. We have taken advantage of all the opportunities Webflow offers, combined with other technologies like WebGL and JavaScript code in order to create the desired effects.
Check
these out ↓↓(Some more
Digital projects)
Check
these out ↓↓(Some more
Digital projects)