Educational
Pairing illustration with type with Inga Ziemele
Speaking to illustrator Inga Ziemele, we chat about how to effectively use illustration and typography together.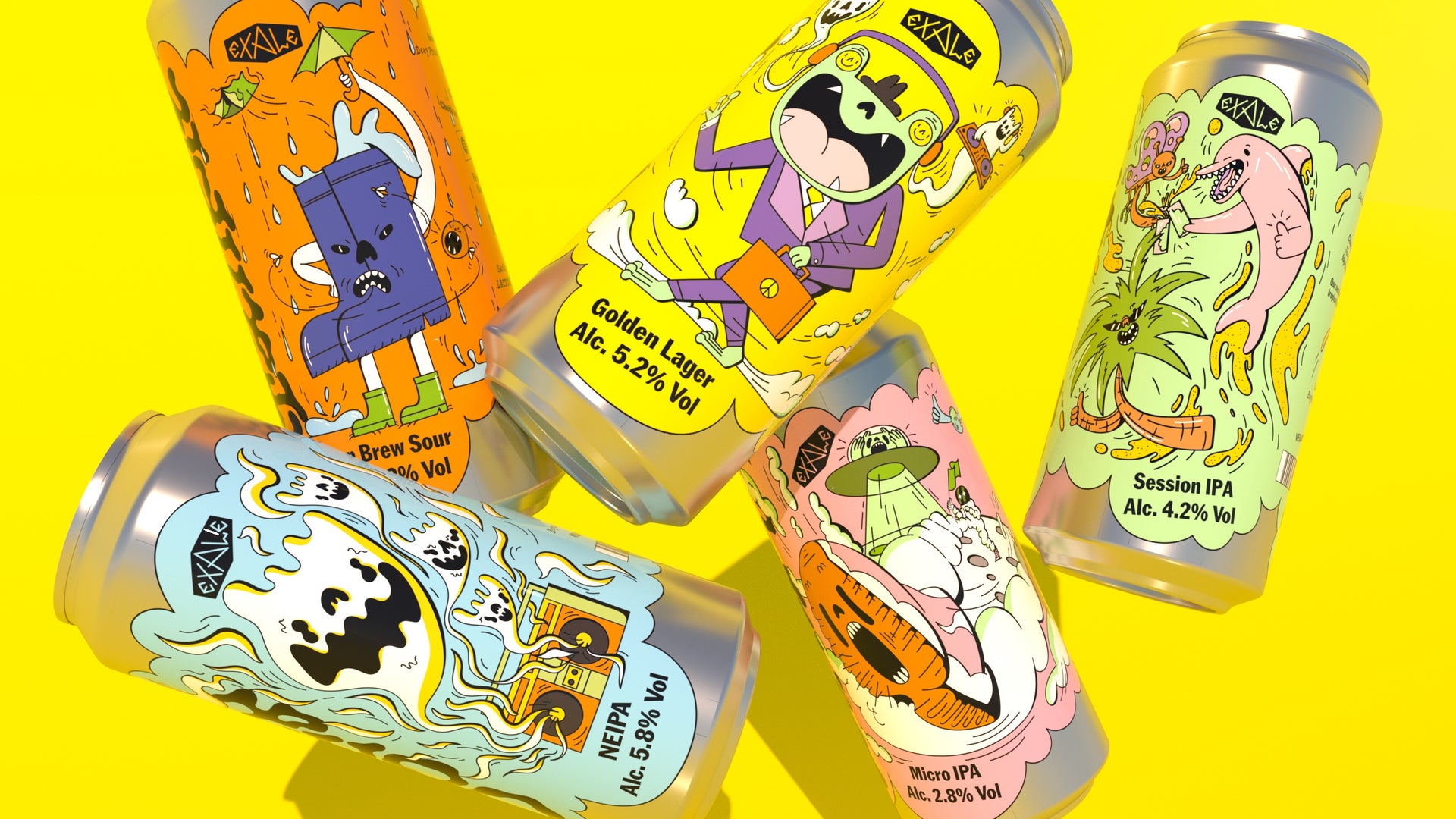 Whether you're a graphic designer that wants to use more illustration or an illustrator who wants to add a little graphic design pizzazz, type and illustration have forever gone hand-in-hand.
Here at Pangram Pangram, we're always on the look-out to learn more about pairing type with illustration – whether it's hand-drawn typography or fun imagery for your brand – and we thought of no better practitioner to turn to than London-based Latvian Illustrator Inga Ziemele. Known for her weird, wonderful, whimsical and often-alien-invested work, Inga tells us, "I'm an illustrator creating a world full of bold and trippy characters," adding, "that hopefully (at least for a moment), can make you forget about all the worries and anxiety you might have." Achieving as much (and more), Inga's work is nothing short of outstanding, crafting complex yet accessible realms that offer more visual treats the more time you spend looking.

Reflecting on her journey to where she finds herself now, having originally studied (and mastered) painting before moving to graphic design, Inga details two fundamental interests: sci-fi and the occult. "They probably peak out in the themes and characters of my work a lot," she suggests. "I feel like my choice of super bold colours also comes from sci-fi and all things alien and weird," Inga adds, recalling her other creative industry-related influences. "I am also very much influenced by graphic design and fashion," she explains, "and I have a secret are.na channel called 'I wish I was a graphic designer' where I add the obvious," calling back to her design background. "I am always trying to find ways I can bring that aspect into my work," Inga adds, "whether it would be layouts or typography."

Inga's vivid practice is not only full to the brim with life in abundance but also prominently features typography – be it hand-rendered or supporting. "Type is purely informative," Inga explains, "it gives more context to whatever the illustration is," whilst also conveying what the images cannot in isolation. "Sometimes the type is the illustration, for example," she adds, noting the twomuch.rocks logo, where the site's typography also serves as rock characters. "I think I have become more comfortable with type over the years," Inga recalls, looking at the role of type across her ever-evolving practice. "I used to think that because I am an illustrator and I do this one thing, I can't peek into anything else," she explains, "however, that's completely bullshit, and I have been tearing down those walls inside of me and my practice."

Speaking to Inga further, we detail the interplay between type and illustration (and how one informs the other) – over to you!
When you first start a project, how do you decide what sort of type would or wouldn't be relevant?
I see what the context is and what the vibe of the work is supposed to give off. For example, is it angry or maybe psychedelic? Then I build from there.
How do you decide when to illustrate type or integrate typefaces into your work?
If there is something the illustration can't say, type comes in. Typography needs to elevate or give more context or information to the illustration. If it doesn't, maybe it shouldn't be there?
What are your considerations when you're illustrating type?
99% of the time, if I'm working on my own, the typography is always hand-drawn, so it naturally looks and feels the same as the illustration. I try to blend the two (type and illustration) as much as possible so it becomes one.
On a practical note, what does your workflow look like?
I work almost exclusively in Adobe Illustrator and on Cintiq. I really enjoy the combo of this software and hardware. I really fell in love again with drawing when I got a Cintiq, and it improved my style. It's like drawing on paper, but you really can get the digital vector smoothness. I think working with other graphics tablets didn't really feel like natural drawing to me. (It feels like I am writing an ad or paid review for Wacom, but it is true :D). I really like the ratio of wonkiness and perfection I got going on with these two. These days I really don't do physical sketches anymore. My sketchbook is reserved for written ideas and bored doodles. I straight up draw digitally everything, which is something I used not to do when I had various other hardware & software setups.
If you aren't designing type, but you're working with a graphic designer who will be, how does this collaboration work?
As silly as it may sound, I usually hope the graphic designer has anticipated my work will look good with their designs. Often I try to give some samples of previous work that the designer can put in as a placeholder to design around, and it does the trick. In most cases, I don't really have an opportunity for input on the typography as the graphic designers/art directors will reach out to me at the final stage of the project, where they have left a hole in their layout for my illustration to be slotted in. Sometimes if the typography is quite delicate or slim, I make my stroke widths thinner, and it does the job of fitting in, but that's my last resort as it upsets the 'preset' rules of what makes my illustration style and those projects often don't make it into my portfolio later on.

On rare occasions when I get to work with the graphic designer closely, for example, the Exale branding project, I try to guide and help with choices of typefaces, but I am always looking for fresh combos that I haven't tried myself. I really like how my illustrations look with chunky bold typefaces, but that has been tried and trialled by myself many times and maybe not be so interesting or fresh anymore, personally.
Read
More ↓↓↓(Reading is good
for you)
Read
More ↓↓↓(Reading is good
for you)