Spotlight
Lucas Hesse: "I like a certain clarity and reduction"
Lucas Hesse on opportunity, 'non-designers', and his lively cross-disciplinary practice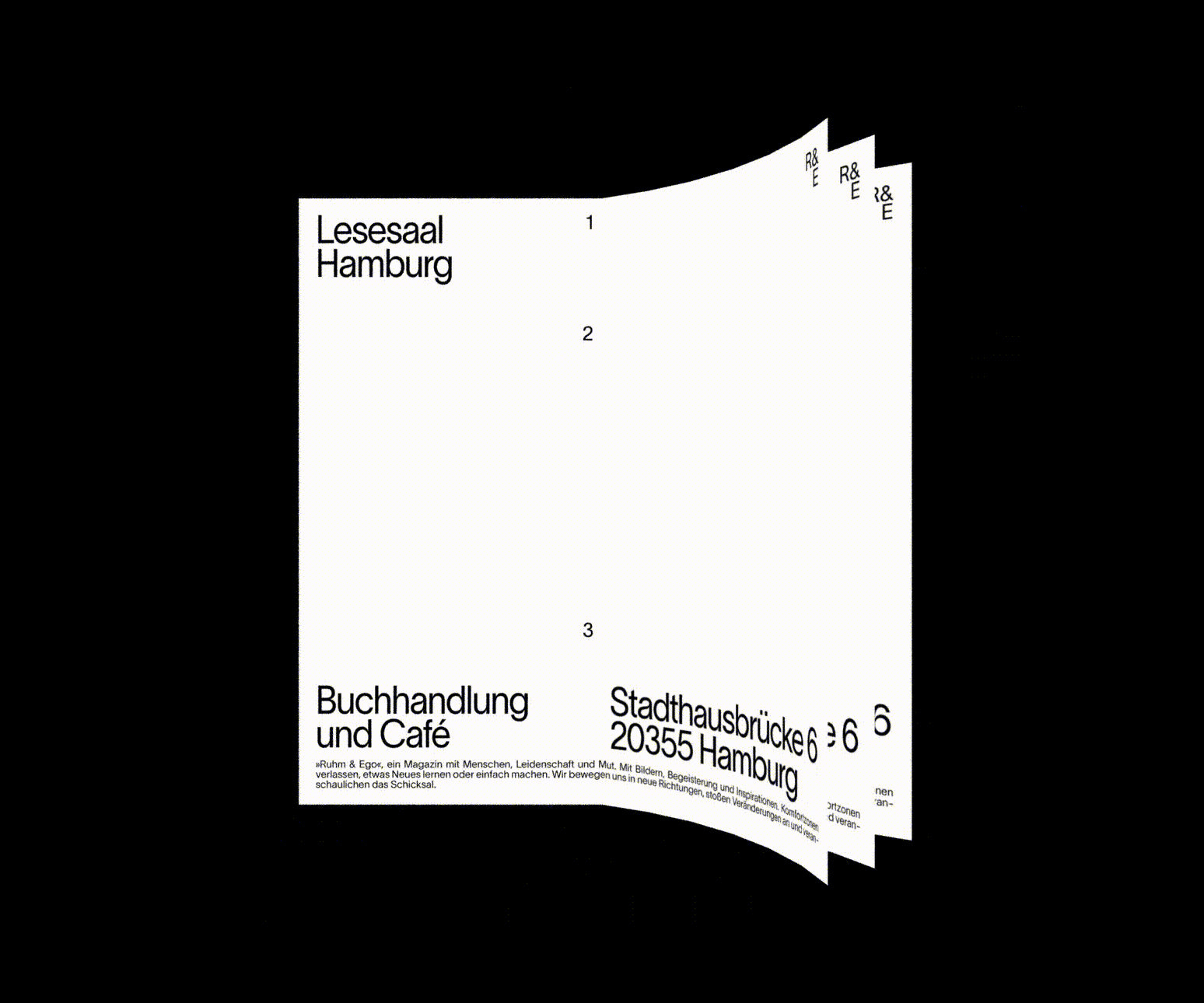 Hamburg-based creative Lucas Hesse has a remarkable, prolific practice that makes it hard to precisely define. Having trained as a professional media designer for three years prior to his study of Communication Design at Mainz University of Applied Sciences, Lucas is fundamentally driven by opportunity, and the chance to try new things, meet new people, and encounter new experiences.
From his semester studying in Seoul, to his Studio Dumbar internship, to his guest semester under Eike König, this drive took Lucas around the world, and significantly influenced the direction of his interests. "During my studies I quickly realised that I was neither passionate about drawing nor photography," Lucas tells us, instead finding a greater curiosity in graphic and typographic exercises, "thus my passion for typography developed relatively early and has remained until today."
Now a full-time independent practitioner, Lucas excels in whichever creative articulation he pursues, be it graphic, motion or type design, as well as creative coding and web development. Although it would be easy to try and pigeon hole Lucas into the monochromatic Swiss design world, that would be too restrictive a category. "It is not easy to describe my own style," Lucas suggests, "but all in all I would say that I like a certain clarity and reduction," he adds, balancing simplicity with expression through his lively, powerful practice.
Turning towards his creative interests, Lucas recalls "although my work is shifting more and more into the digital realm, I am still passionate about editorial design," he explains, finding enthusiasm and inspiration in printed matter. "But I would be lying if I said that Instagram doesn't inspire me and influence my work," noting how inevitably he (as we all do) spends too much time on instagram, consuming the abundance of design. Captivated by the creative eye of those not in a creative profession, however, Lucas explains his interest in 'non-designers.' "Here and there I sometimes come across some quite funny, but at the same time totally exciting, design approaches that were obviously created by dilettantes," he recalls. "This is often a great inspiration and can also influence my own work," Lucas adds.
Moving away from the page, Lucas blurs the lines so often drawn between graphic, type and motion design. Unable to separate the three, he postulates on the fluid nature of their influence upon each other, forged by the variety of his work so far. "Everything influences each other," Lucas tells us, "sometimes the layout results from animation ideas or vice versa, where often the two levels evolve in parallel," manifesting in cohesive and forward-thinking concepts. Noting the natural, expected restrictions imposed by commercial work, Lucas finds a greater satisfaction and creative curiosity in his personal projects. "Often this freedom, e.g. not to pay attention to legibility," he explains, "leads to more exciting results," led fundamentally by his choice in typeface, unconventional type design and a drive to express through means typically not utilised for self-expression.
A recent embodiment of this is Lucas' own exploration into analogue animation, using Lego bricks to form individual animation frames. "The impulse for these analogue animations came from the desire to work more with my hands, away from the computer," he recalls, challenging the idea that typographic animations are only created and performed digitally. Bored by the pixel-perfect animation we've become accustomed to, it was stumbling across a Zoetrope that sparked his imagination. "I was immediately fascinated by these little analogue loops," he explains, "then I started experimenting with stop motion and especially liked the deceleration and determination it requires." The heart of these explorations, however, go far beyond simply the labour and hours required to explore it – instead at the core of the project we find sentiment. A sense of nostalgia, familiarity and playfulness reappropriated in a more graphic, systematic context. "The idea with the Lego came to me when I was visiting my parent's home and discovered my old lego box," Lucas recalls, "I was immediately convinced that I could make a typographic animation with it," creating a wild, imperfect and wonderful dance of feeling and form.
In a similar theme of somewhat eccentric graphic reformation and unconventional challenges to editorial etiquette, Lucas collaborated with Sophia Weider to found Ruhm & Ego, established under the translated tagline 'Just do it,' that hosts a vibrant feast of cross-disciplinary creativity. "We present people from different fields who do what they love with passion and enthusiasm," Lucas explains,"from conception and planning, to communication and editing, to design and web development, we do everything ourselves." Demonstrating the passion behind the scenes, it is no surprise that within their personal endeavours they would also explore the enthusiasm and passion of others. "This gives us the freedom to do only what we love," he adds, using the project as not only a thoughtful exploration of creativity, but a chance to investigate and challenge his own. "The project is an experimental playground for me, especially in the field of design and animation," Lucas concludes, "I can try out things that might not be feasible for commercial projects," a sentiment indicative of his ecstatic, attentive and whimsical practice.
Read
More ↓↓↓(Reading is good
for you)
Read
More ↓↓↓(Reading is good
for you)