Educational
Design Insights: the pros and cons of freelancing vs full-time employment
Welcome to Design Insights! Here seven remarkable practitioners and studios discuss the creative and the practical side of working in the design scene, featuring Kessels Kramer, Studio Lowrie, Lauren Harewood, Sthuthi Ramesh, Jennifer Whitworth, Barkas and Vanderbrand. Check back each week for more wonderful words of wisdom!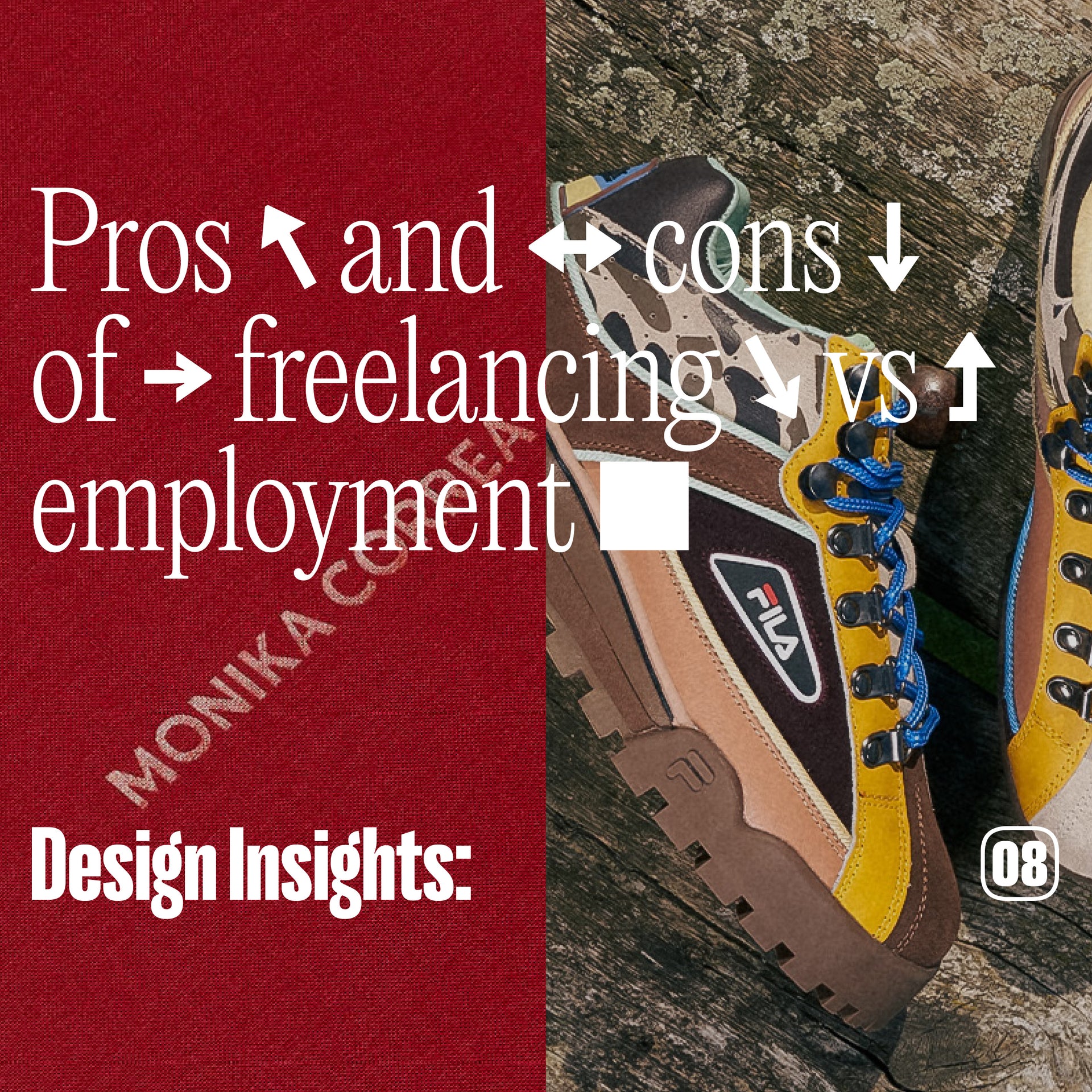 Welcome back to Design Insights!
As creatives, we are often blessed with the issue of deciding between joining a studio or doing it on your own – both come with their own challenges, trials and tribulations. These cons, however, are equally mirrored with an array of positives. Be it the freedom to work wherever and whenever you want or the flexibility of deciding who to work with and for. With this in mind, we've spoken to our resident, insightful creatives, ranging from self-employed to business owners and employees, to get their perspective of what's best.

Over to you, team!
WHAT WOULD YOU SAY ARE THE UNEXPECTED BENEFITS AND DIFFICULTIES OF BEING FREELANCE/OWNING A BUSINESS VS BEING EMPLOYED AT A STUDIO?
An unexpected difficulty of being a freelance designer in London specifically is the industry here sometimes makes it hard to receive the benefits of actually being freelance. There's a big culture of freelancers joining design studios for months on end. This is *amazing* for lots of reasons, including working on bigger budget projects and having financial stability. So please don't get me wrong, it plays a *really* important part in our creative output and income!

Where it gets a bit tricky is the expectation that freelancers shouldn't have any input on the conditions of their involvement. Things like working days/hours, conditions (i.e. remote, or onsite) and even whether you're allowed to share the work in your portfolio. They're relatively small compromises for a studio, but they make such a difference to us. Freelancers already don't have the rights full-time employees do, so I always see it as a bit of a red flag when studios or agencies aren't willing to negotiate at the beginning of a project. It feels like a bit of a warning sign of how you'll be treated for its duration. Fortunately, **lots of studios are indeed lovely, respectful of you and your time, and are super open to having these conversations. The earlier you can bring it up, the better.

However, if you get a project across the start line and you're happy with the conditions – I've been amazed at the trust people have put in me since I've been freelance and am so thankful for it. I've definitely seen the benefits of being the one to set your own limits, not only in your boundaries but also in your capabilities. Sometimes when working in a design studio, it's really hard to judge where you'd be at in the outside world, but when you're freelance, it's sort of in your hands what you sell yourself as. Most of the time (so long as you're being honest), I think people are willing to give you a shot. It's been really affirming for me to be trusted with the kind of projects I have been doing, and also, being able to complete them to a good standard independently has helped me to feel really validated in my capabilities. out. People start to hire you for the type of work you become known for, so it's important to take on the projects that make you feel excited and that will sustain your motivation. This is something I'm consciously and actively trying to balance a bit better now.
Unexpected benefits are flexible timing, making your own decisions, no hierarchies, complete project ownership, as many holidays as you need (and can afford), and keeping more of your own takings.

Difficulties I would say are isolation (it's tough to work alone sometimes!), higher responsibility, new business development, and promoting your studio/business.
Hmm, Freelance vs Studio? There's good and bad about both if I'm honest and it depends on what kind of way you like to work. Do I miss the stable monthly pay-check? Yes, sometimes! But I love the flexibility of freelance. I can pick what I work on and how and when I work on it. With that flexibility, however, may come times when you're so painfully overbooked you want to cry or times when you're in a bit of a drought, and you have only yourself to pull you out. It can be hard being the creative, the project manager, the accountant (actually get yourself an accountant) and the new business partner all in one. That said, the amount you'll learn from being able to wear all those hats is pretty remarkable.
That's an expansive question. Firstly, some people are just cut out to freelance more than others. It always sounds great from the outside, but the realities can be tough. Do it when you're young, if you can, it's a great way to snoop around a lot of agencies to get a sense of what's good for you and what's not.

Full-time employment offers you stability. It sounds obvious, but from a holistic 'life' perspective, that can be invaluable, and when you're struggling with your creative demons, stability is easy to write off. Creatively, you're also likely to get the ability to influence more things. Freelancers are often treated like hired guns who dive in and jump out at any point. if you work somewhere full-time, it's easier to get your thoughts heard.

And, if you own an agency, maybe don't buy a listed church? For a little more context, google KesselsKramer office Amsterdam, or look here: [https://www.kesselskramer.com/hello](https://www.kesselskramer.com/hello)
Creative Directors Julie Vander Herberg and Anna Vander Herberg of Vanderbrand
The unexpected benefits to owning a business are being able to choose who you work with and, most importantly, being proud of the work the company has produced. The pitfalls are the constant unknowns of what the future looks like, though this could be perceived as a benefit. We started Vanderbrand from the ground up, and we financially took a risk without knowing what our future held. Thinking back to our early years, there were a lot of growing pains, but we would not have done it any differently.
I loved being in a studio. It was like a six-year apprenticeship and taught me everything I know now! I had three very talented directors at Bibliothéque with varied skillsets that spanned the entire range of design studios. I learned how to manage and produce so many unique projects. Working in a small studio with a less formal infrastructure allows you to experience a more varied role. Project management, presenting to clients, artworking and production are all things I did on top of my role as a designer. This experience set me on the path to feeling like I wanted to do this for myself.

The difficulties of owning your own studio are that you are entirely responsible for everything. In all honesty, I never imagined setting up a studio by myself and thought I'd be able to share that pressure, but as with all things, the more you experience, the more you know. Things that were stressful at the start (VAT Return, paying people, keeping the lights on) are far more easily manageable and just part of the day-to-day running.

Anytime I do feel stressed, I do think of how lucky I am to be fully independent. It's incredibly privileged and motivates me. I honestly look forward to Mondays now because if this is work, and I love what I do, I can't really complain.
We have been working as an agency from the start, so our perspective on this reflects that.

We prefer to hire people full-time rather than having freelance setups, although these also occur when a more specialized skill set is needed.

Our culture is as important to us as the work we do, which is why we invest in it, so it can flourish. Our aspiration is to create a culture that people really want to be part of, so people hopefully weigh the benefits that come along with it higher than freelancing or working at another agency. But, at the end of the day, people are different and want different things, and that is all good.
Read
More ↓↓↓(Reading is good
for you)
Read
More ↓↓↓(Reading is good
for you)