Educational
Design Insights: Filing Systems, Formats and File-sharing
Welcome to Design Insights! Here seven remarkable practitioners and studios discuss the creative and the practical side of working in the design scene, featuring Kessels Kramer, Studio Lowrie, Lauren Harewood, Sthuthi Ramesh, Jennifer Whitworth, Barkas and Vanderbrand. Check back each week for more wonderful words of wisdom!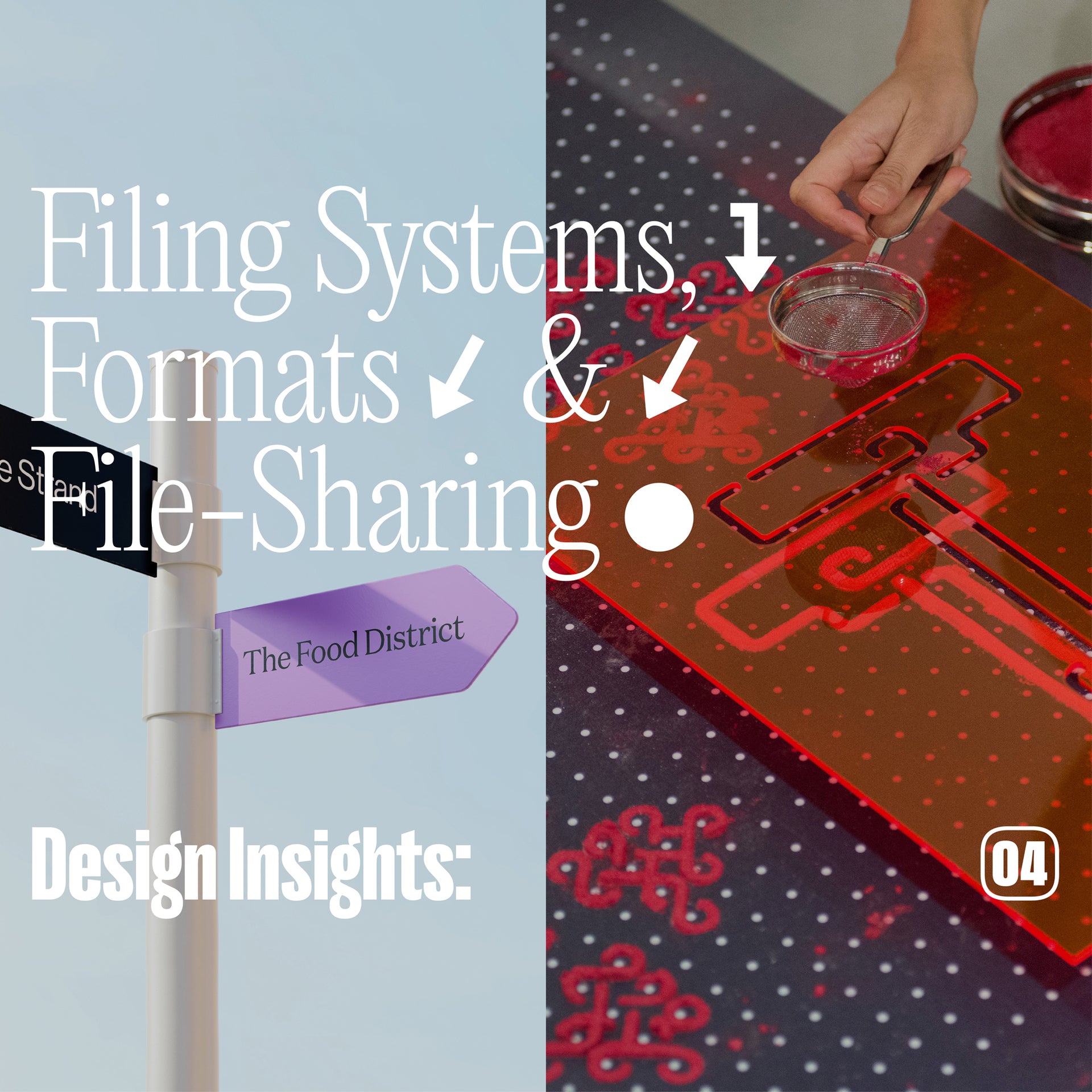 Welcome back to Design Insights!
Since design (and life) has become increasingly remote, with creative practices being run entirely digitally, the filing systems, formats and file-sharing methods we use have become ever more critical, truly making or breaking a creative's day-to-day design processes. With so many options out there, it can be a bit daunting to know what's good, what's fine, what you should definitely avoid, and, as we're looking at today, what's recommended. We know this might sound a bit dull, but, take their advice and feel the weight lift off your shoulders as you breeze through life without a filing worry in the world! So, speaking to our resident creatives, we've chatted about the administrative nitty-gritty, asking how they file their work and the intricacies of doing it well!

Over to you, team!
WHAT'S YOUR GO-TO FILING SYSTEM?
Huh – good question. I'm neurodivergent and sometimes I think my kind of organisation isn't what other people would call organised! But I do try to keep my files pretty clear for my own peace of mind, and also because if I am collaborating with people I hate feeling like the one radiating chaotic energy haha.

I use Dropbox as my online server for multiple reasons: It's super easy to transfer over to at the beginning and do so in a way where you don't have to store anything on your machine. You can also share things with collaborators easily and create transfer links instantly. I'm also a big writer to organise my thinking so I use Dropbox Paper for that. And then finally when I did my research, while it's not cheap, it seemed like the place where you get the most storage for your money. I still have a basic Google Workspace subscription though, which I find better for admin and project managing – things like calendars, setting up meetings, using google sheets for taxes, and all the boring life stuff. If someone knows a good way where I don't need to pay for the two though, hit me up. It's a full time practice figuring this stuff out!

File naming-wise, I've been using a system for a while that I've picked up from various places along the way and sort of amalgamated them. I start all folders with a number – 00, 01, 02, which helps me to keep them in the order that I'd like them to appear. I always use underscores to indicate spaces to try and avoid any incompatibility issues. Admin stuff is usually 00_Something –  I.e. 00_Accounts/00_Portfolio/00_Resources/00_Archive etc. Then past that you can use 01_ProjectName/02_ProjectName/03_ProjectName and so on. If a project is finished I'll move it into an archive. And then the same is applied within the project files but with the stage type i.e. 00_ClientSupplied/01_InitialDesigns/02_Amends1/03_Amends2 and so forth. Within *that* I break it down to folder of file types, and name my files JW_ProjectName_01/02/03/DEF (for 'definitive'). If its more relevant or it would make it clearer for client delivery, I'll sometimes use the date when delivering.

Inside files, I find it best for my little chaotic brain to keep it loose when ideating and not worry too much about organisation. I don't want to impose restraints before I've started sketching. Usually, my mess makes sense to me and that is fine for that stage. As I'm pulling more refined ideas into a presentation though, I'll neaten things up and put final choices in refined files, artboards or layers.
Google Drive to save all my files. Initially, my filing system was very chaotic. Later I came across this book "Know your Onions" which gives you a lot of tips on how to organise your files, file naming and other tips (like how not to give silly filing names such as "file name_final"); plus I learned a lot while working for different creative studios and agencies.

And I also organise my files and use proper paragraph styles, character styles and make sure my artboards are organised. Also have separate PDF folders and JPEG folders.
I'm a filing BOSS, with 7 years in agencies I really should be. It's not the most glamorous part of the job but it's essential. I make sure I save every version of each project at each different stage, as we all know clients like to change their minds and I'm not about re-doing work that has already been done. I'm here for peace, not problems. I'm old school so I don't use the Cloud, I have a multitude of Hard drives full of back-ups and even more back-ups for those. You never know when your MacBook is going to let you down, be prepared! My personal Photoshop files are kind of a mess but if I'm working in a team or know some other poor designer has to pick them up I'll clean them up. No one likes a messy file, don't be that guy.
Scraps of paper? Screenshots? Phone notes? Emails in the middle of the night? Adobe? Doodles? Google Docs, versions 1 through 3000?

We have lots of file naming structures and formats but that's not really a working system or very important, it just kind of happens somewhere along the line.

Google Drive was a blessing in lockdown, however.
Creative Directors Julie Vander Herberg and Anna Vander Herberg of Vanderbrand
We work on a server which can be accessed from anywhere. We organize our files based on dates and revisions, so we can always find the most current working file. Once we go to press, we will make sure all our layers are cleaned up and print-ready. If there are any revisions after going through production, we label the files as Final Art.
Oh wow, what a question. I feel like such a bore having to explain naming projects to people at the start and then seeing it incorrectly with spaces or incorrect capitalisation. Still, it's SO helpful when it's done correctly and makes searching for old work far easier. Especially now, we remote work and have a team that works across the world.

We do (what I think is) the classic YYMMDD_Client_PhaseNo_Item_1-10 because this orders numerically and means it's much easier to see what is the latest filename and last worked on file is. This is more used for projects in delivery, making it easier to share/fine items with clients. Sometimes, our concept stages are a bit more like a chaotic sketchbook, and you see a few untitled-33.indd's flying around. Mainly me, if I'm honest.

We've started using Notion, which has been a game-changer for centralising project management and scheduling across various locations and timezones. Look it up and learn about it if you don't use it! You could organise your whole life on it.

Dropbox is our file manager. Not sure if this is the best, but it works for us!
We use G Suite for email, calendar, docs, sheets, slides and drive. The latter for storage. For creative exploration and presentations we use Figma, which allows for easier collaboration internally and externally. Oftentimes, our clients can access the files we are working in directly, which makes the creative process more iterative, immersive and collaborative. This, in our experience, leads to better outcomes, in a more efficient way. Furthermore, we use Dropmark as a tool for sharing and organizing inspiration and references across the team.
Read
More ↓↓↓(Reading is good
for you)
Read
More ↓↓↓(Reading is good
for you)