Educational
Creative and career advice for Illustrators
Inspiring insights from industry leaders and creative heavy-hitters.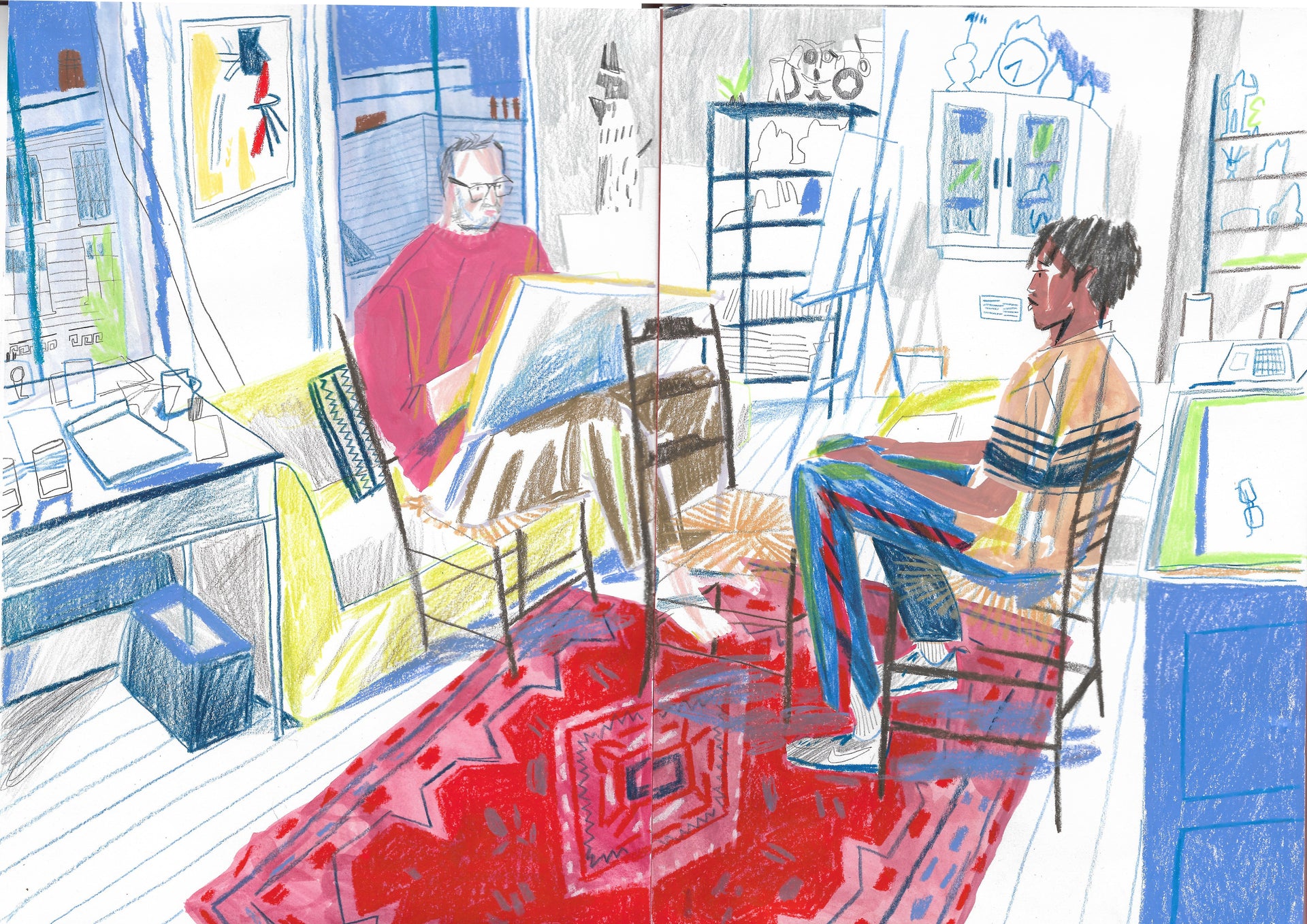 'Jack of all trades ooooooor master of one?' 😟

'What do I do when I don't feel creative at all?' 😣
Be it career or craft related, as fellow creatives, we understand how overwhelming it can be to make big decisions and how anxiety-inducing insecurity can be. Often you can feel you've hit a creative brick wall, unsure how to get over, around or through it. Other times, you can feel the pressure of representing a new generation of creatives, which opens up a whole can of introspective worms.

We're happy to welcome you back to Pangram Pangram's advice series! Our platform is designed for those passionate about creativity, regardless of their profession. Basically, no matter what you do within the creative scene, we'll have something of interest and intrigue, featuring advice from our roster of industry experts.

For this piece, we've once again turned to some of illustration's heavy-hitters – Joey Yu, Lucia Vinti, Maria Midttun, Daniel Batista and Talia Melda Temuçin – to talk creative and career advice. Especially as a one-person team, the creative scene is a tough job space, and often you can find yourself lost – unsure what to do, where to go or who to turn to. But worry not, as we've got some clever, kind and talented people who are here to help. Over to you, folks!


CREATIVE ADVICE





Daniel Batista



Looking fondly at the world around us is one of the things that has most contributed to my practice as an illustrator. I believe in the power of observation and reflection on the things that happen in everyday life. In my point of view, illustrating is 'making a commentary on what we are seeing and experiencing', therefore, looking carefully at these 'bright spots in life' is fundamental to exercising creativity.
Joey Yu

I always stress that fallow periods in creativity are real. If you're tired working on a drawing for example, take a break from it, go for a long walk, sit with it. Maybe take up a creative hobby that isn't monetised, work on something else, and I promise when you return to the piece of work, it'll look a little different.
Lucia Vinti

I think it's important to let yourself go through phases when it comes to creativity. Sometimes you might not be feeling creative at all – this can be a good time to reflect and research, for example visiting galleries, reading books, all that good stuff. You never know what might spark that creativity to come back.

At other times, you might feel creative yet stay somewhat in your comfort zone. If you're an illustrator you might draw a subject matter or use material that feels comfy and familiar. And sometimes, you might have a big burst of exciting creative energy, that makes you want to experiment and try something new – lean in to this and see what weird work happens!
Talia Melda Temuçin

Keep on producing! I'm not gonna lie, those super tidy shiny portfolio pages (especially on Instagram) often hide the harsh and exhausting reality of freelance illustrators and artists in general. Most of the time, you have to put an incredible amount of time into socialising and canvassing to get jobs, and even then, most of them aren't well attended to.

It takes a lot of perseverance and passion. Yes it can be the best job in the world and the most mentally draining at the same time. If I had to break it down to one piece of advice it would be that inspiration and good ideas have always found me while working!

Furthermore, I've gotten into the habit of putting a pen in every jacket pocket and always having a sketchbook at hand. When a picture drives me to despair, it usually helps to take a step back. A half-hour aimless walk can already help to free the brain to get a new look at it.
Maria Midttun

Avoid being too precious about your process and work, especially in the ideas and sketching stages. My best drawings and ideas are often sketched on copy paper with a cheap pencil, not worrying about wasting good paper on a bad drawing.
CAREER ADVICE





Talia Melda Temuçin

Know your value! For my part, I stopped working for visibility only, unless it's a volunteer organization that I want to support. I think as Illustrators we have a responsibility to work for fair wages because that has an impact on all of us. Turning down jobs is a terrible feeling but can be very liberating as well.

Promote your work. Promoting nowadays can be networking out of your circle of friends, which may already help you to find clients. Exhibitions, collabs with companies are a good way, too. And as energy consuming as it is posting on a regular basis on Instagram is important. Actually almost every tool works, if it is used consistantly.
Lucia Vinti

Don't underestimate the power of a part time job! I used to think it was important to try and be a full-time freelancer, but having a part time job has given me a sense of stability that has in turn, made me more relaxed and excited to do illustration work. It's allowed me to use different skills, meet new people, and pay my rent when freelance work is slow. I also have to procrastinate less, as I just have less time to fill!
Joey Yu

I think this is helpful in any job, but practise presenting your work. Talk about a project out loud, or to a friend/family, and vocalise what it is you do. Getting confident about your practice is really key, and it seeps into everything you do if you can explain why your work is valuable.
Maria Midttun

It is not always easy to prioritise, but I find setting aside time for personal projects and personal creative collaborations very valuable. It usually leads to interesting commissions and unexpected results!
Daniel Batista



It may sound repetitive, but I believe that practicing regularly and enjoying the process is paramount to a career in illustration. For this reason, I consider it important to constantly develop personal projects, so that you can freely illustrate and address the topics you are interested in. These projects, which are not made for clients, are most often responsible for shaping our artistic personality and also serve to attract collaborators and clients who address the same themes.
Read
More ↓↓↓(Reading is good
for you)
Read
More ↓↓↓(Reading is good
for you)