Educational
Design Insights: Balancing Time, Projects and People
Welcome to Design Insights! Here seven remarkable practitioners and studios discuss the creative and the practical side of working in the design scene, featuring Kessels Kramer, Studio Lowrie, Lauren Harewood, Sthuthi Ramesh, Jennifer Whitworth, Barkas and Vanderbrand. Check back each week for more wonderful words of wisdom!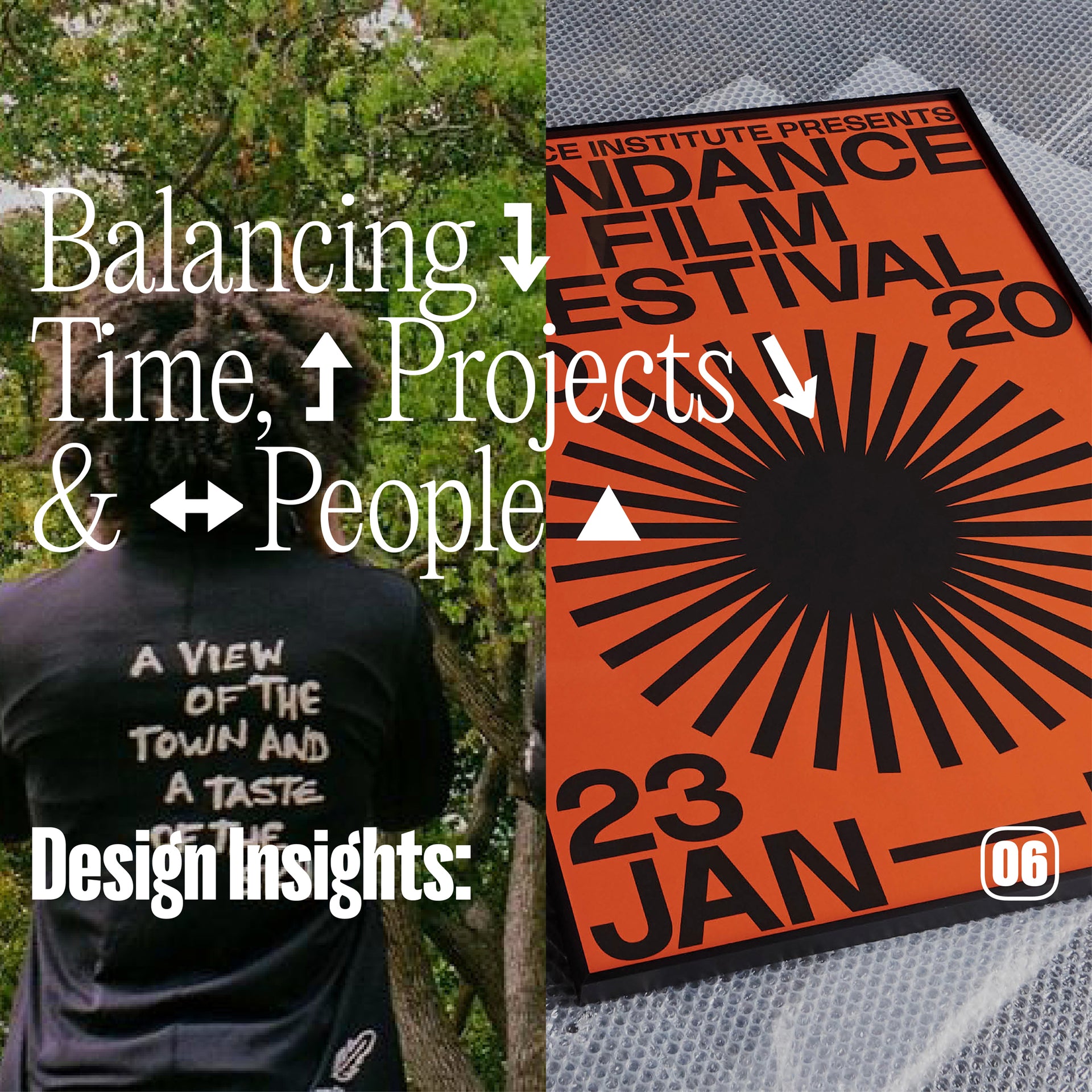 Welcome back to Design Insights!
As a creative practitioner, whether you work in a studio, run one, or direct your own independent practice, there are SO many things to handle at once, and finding some sort of balance is crucial. It can feel like a lot sometimes (or all the time for that matter!). Speaking to our resident creatives, they've offered their honest, earnest experience, discussing the realities of balancing all the things that make up their days, and telling us how on earth they juggle it all.

Over to you, team!
HOW DO YOU BALANCE AND MANAGE PROJECTS, TIME AND PEOPLE?
Ok I keep thinking I've reached the hardest question but I think this is actually the hardest because this is very much a work in progress for me. So much so, that at the time of writing I'm meant to be taking a week off and six small-but-big-enough tasks have come in this week. Being a freelancer is a real juggling act, but part of the reason I agree to it is because I know it comes in waves and it's a case of constantly weighing up the pros and cons.

When I take on more, it's usually because there's something I see in a side project that will be creatively fulfilling. I've done quite a lot of agency work this year so far and so it's somewhat freeing to work on small-scale, side projects that connect a bit more with your interests, values or communities. I think also as a freelancer, it is sometimes a case of what you put in, you get out. People start to hire you for the type of work you become known for, so it's important to take on the projects that make you feel excited and that will sustain your motivation. This is something I'm consciously and actively trying to balance a bit better now.

Fortunately, this is a two week holiday so I'm going to try again at the resting thing on Monday.
Staying organised, setting realistic timelines, knowing your accounts, and briefing designers/freelancers precisely so you know what to expect from them.
I try and take a few hours each week for admin. I never thought I'd be that person but Google sheets have saved me, I note down everything! I have one to manage new business, another one for timesheets, one for expenses, another for invoices and finance and one just with all new contacts and people I meet. It sounds excessive but the way my chaotic brain works, having these pieces of information down on 'paper' and out of my head clears up some space. As for managing emails, if I'm actively working on a project with you I'm pretty speedy with my replies. New business/ enquires I take a little more time over as I have to check timings on other work I have going on.
And on the 114th day, God created project managers and he saw that it was good.
Creative Directors Julie Vander Herberg and Anna Vander Herberg of Vanderbrand
First and foremost, a work back schedule is established to ensure that all timelines are aligned, this includes our own team members and any other collaborators. This ensures that all parties are on the same page. Ultimately, managing a project really just comes down to open, clear communication.
It's difficult to do it all. I think when people start businesses, they think they need to learn how to do everything themselves, which is partly true, but not forever. In my opinion, being a good manager is being honest to yourself and acknowledging what your weaknesses are, finding people out there who can do it better than you, and partnering with them. This has made my job infinitely more enjoyable.
In our opinion, great outcomes come down to great planning. This is why we aim to follow a structured process in which ideas can run wild without running off track or over time. An important part of making this happen is that we spend adequate time scoping the project both with the client and also with the different team members at Barkas who will be working on it in order to ensure realism and balance between expected deliverables and time. We also aim to have one lead from each team at Barkas to share ownership of the project from start to finish (i.e. project lead, strategic lead and creative lead), so our different skill sets are represented throughout a project. Practically, we manage scheduling, budgeting and monitoring of financials on all projects through Productive.
Read
More ↓↓↓(Reading is good
for you)
Read
More ↓↓↓(Reading is good
for you)